Snails, snubfins and snapping turtles: our local identities celebrated on National Threatened Species Day
Posted on September 7th, 2018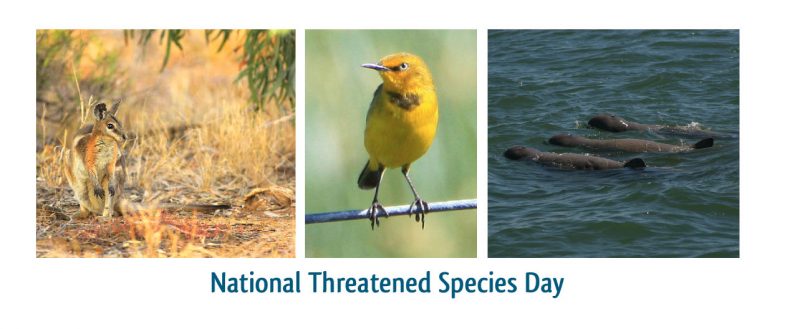 Today (September 7th), is National Threatened Species Day – an important occasion as recently Australia was named as the fourth-worst country for animal extinctions worldwide.
Australia is home to more than 500,000 animal and plant species, and over the last 200 years, 100 of these species have become extinct. September 7 is a reason for the Fitzroy Region to celebrate, as we are home to at least 256 rare and threatened species!
The Fitzroy Region boasts many of Australia's well known native animals – like the platypus, kangaroo, and kookaburra. It is also home to a number of native animals that are found no-where else in the world, Australia or even Queensland and unfortunately, many of these species are rare or threatened. For the last 21 years, we, Fitzroy Basin Association Inc. (FBA) have been working hard with universities, government departments, local councils, volunteer groups, peak industry bodies and other non-profit organisations to reduce threats to our threatened or endangered species.
From the well-known Australian Snubfin Dolphin to the somewhat less glamorous, yet equally important, Boggomoss snail, all native flora and fauna play an important part in the local ecosystem. Saving threatened species is essential for a healthy and diverse environment. Once plants and animals become extinct, they are gone forever.
Nowadays most species become threatened because of habitat destruction and the invasion of non-native species. With effective management, almost all threatened species can be protected. However, as each species is unique the strategy to safeguard its existence must be as well. These strategies include a range of activities such as nest and habitat protection, weed and feral animal control, monitoring and awareness-raising.
An example of a specialised program that brought a species back from feared extinction is the Bridle Nail-tail Wallaby project. This adorable little wallaby was believed to be extinct for four decades. Its biggest threat was identified as feral cats, foxes and wild dogs. A range of conservation actives were rolled out including baiting, monitoring and protecting the wallaby's 130,000-hectare habitat from predators. In five years, with the help of the Queensland Government, local landholders and partners the wallaby's population size doubled saving the animal from the brink of extinction.
With 256 rare and threatened species in our region, there is always a need for helping hands – and you don't need to be a scientist to help. No matter your background, age or experience you can help threatened species. In the Fitzroy region there are a number of volunteer and conservation groups and organisations that work to protect threatened species. To learn how you can do your part to help the local 256 rare and threatened species click here.