eDNA tests return encouraging results in tilapia numbers across the Fitzroy Basin
Posted on July 31st, 2018
Highly specialised testing undertaken by Fitzroy Basin Association Inc. (FBA) for tilapia has conclusively returned negative results, putting to rest fears that the pest species had spread to waterways across the region.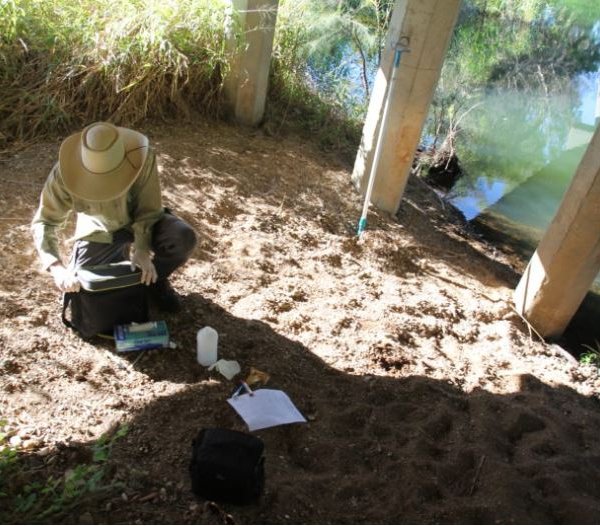 Shannon Van Nunen, FBA's Senior Project Officer, says the community should be very proud of these results.
"Protecting the Fitzroy Basin from infestations of tilapia has been a community effort," he said.
"FBA would like to applaud the public for their efforts in keeping tilapia under control in the Fitzroy Basin."
Tilapia is a highly invasive fish species listed in the world's 100 worst invasive species and are regarded as one of the greatest threats to Australia's aquatic ecosystem. Concerns that the pest species had spread from Yeppen Lagoon, a known tilapia infested waterway, to other areas in the region prompted FBA to conduct highly specialised testing known as Environmental DNA or eDNA.
Infestations are usually caused by people moving the fish between waterways or using them as bait. However, following widespread flooding events across the Basin in 2017, testing was required to ensure this had not enabled the spread of tilapia.
eDNA is a non-invasive sampling technique that can detect the presence of a species by targeting its genetic material. Water samples from 15 sites during April and May of this year from locations including Boat and Waterpark Creek and Boyne and Calliope River were collected then sent to Melbourne (on ice) to be analysed by a team of experts.
FBA is pleased to announce that all sample sites, excluding Yeppen Lagoon, showed no infestations of tilapia.
While this does not rule out the possibility that small numbers of tilapia are living in these locations, it indicates that the species are not dominating the water body. While these results are worth celebrating the work is not done. Keeping tilapia under control is an ongoing effort and early detection of the invasive species' can greatly increase the success of control measures.
If you catch or sight tilapia report it through the FeralFishScan App or website. Captured tilapia should be humanely killed with a blow to the back of their head and either buried 50m away from tidal influences or put in a bin. It is illegal in Queensland to possess tilapia alive or dead for any purpose and fines may apply.
Click here to learn more about this pest species.