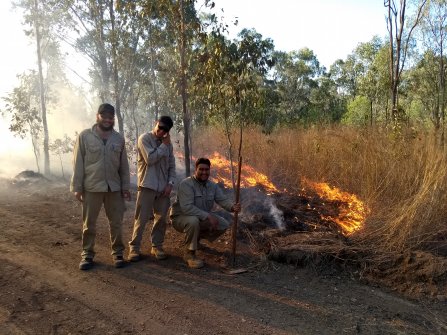 Fire training preserving culture at Aldoga
Posted on September 13th, 2018
Sophisticated fire management techniques were recently showcased in Aldoga, outside of Gladstone.
The one-day workshop, led by Victor Steffensen, was praised by attendees as delivering an informative and inclusive learning experience while walking on country. Lisa Del Riccio, FBA Community Participation Officer, said the workshop was rich in cultural knowledge.
Walking country, I began to view the landscape and fire differently," she said.
"Previously, I had thought of Cultural Burning as mosaic burning, but it far more complex and sophisticated. Indigenous fire management has the potential to heal our landscape through weed reduction and increased native biodiversity, reconnect people to country and reduce the risk of wildfire."
Lisa says five key learnings arose from the workshop.
Recognising that different plant and soil communities require burning at different times of the year
Utilising fire as a means of controlling invasive weed species which also leads to reduced wildfire hazard. Most weeds burn hotter and higher than native species.
Cultural burning is cool burning. It is slow. No drip torches. You walk with the fire. White not black smoke. No water.
The health Australian landscape depends on managed fire planning – current focus on hazard reduction is homogenising our plant communities, and unintentionally reducing biodiversity. Cultural burning is a natural method of land regeneration – restoring a damaged or exploited place to a healthy state over time
The connection between traditional fire practice and Aboriginal custodianship of land and culture. Indigenous Fire Management requires time spent on country.