Seagrass Restoration Mission in Full Swing
Posted on March 29th, 2022
With over 1,000km of coastline to monitor, Fitzroy Basin Association (FBA) and its dedicated environment team are kept busy all year round managing environmental projects, field monitoring and contributing to seagrass restoration efforts.
FBA in partnership with CQUniversity, and a community of amazing volunteers, have been working hard to improve fisheries habitat and a great deal has been accomplished already.
Why is seagrass so important and what would happen if we didn't have seagrass?
Healthy oceans and marine life rely on seagrass. Seagrass = habitat, food and FISH!
Below is a visual of what life would be like with and without seagrass.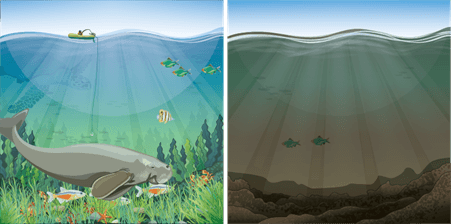 What it takes to be the top FBA seagrass campaigner?
FBA Science Officer (Environment) Mac Hansler has seen more seagrass than most as an avid free diver and previous scientific diver with over 500 logged dives.
These days Mac oversees FBA's program to improve fisheries habitat and seagrass restoration services along the Curtis and Capricorn Coasts. When in the field, Mac works with CQUniversity staff and coordinates citizen science volunteer efforts to collect seagrass seeds that are germinated and transplanted to affected meadows.
The science behind the action
CQUniversity Associate Professor Emma Jackson is the director of the Coastal Marine Environment Research Centre (CMERC). Her research is driven by the idea that coastal development for housing and business is an ever-increasing human activity, which introduces more run-off to our seagrass meadows. Erosion from farms upstream in the Fitzroy catchment makes its way to coastal seagrass meadows and World Heritage Great Barrier Reef as sediment as well.
Seagrass can also decline because of natural disturbances too. Cyclones are unpredictable hazards and strong winds whipping up large waves can uproot seagrass along coastal shallows in central Queensland.
With other extreme weather events, strong winds and sediment run-off from heavy prolonged rain, some seagrass meadows face being buried in sediment that can cause meadow losses on a broader scale.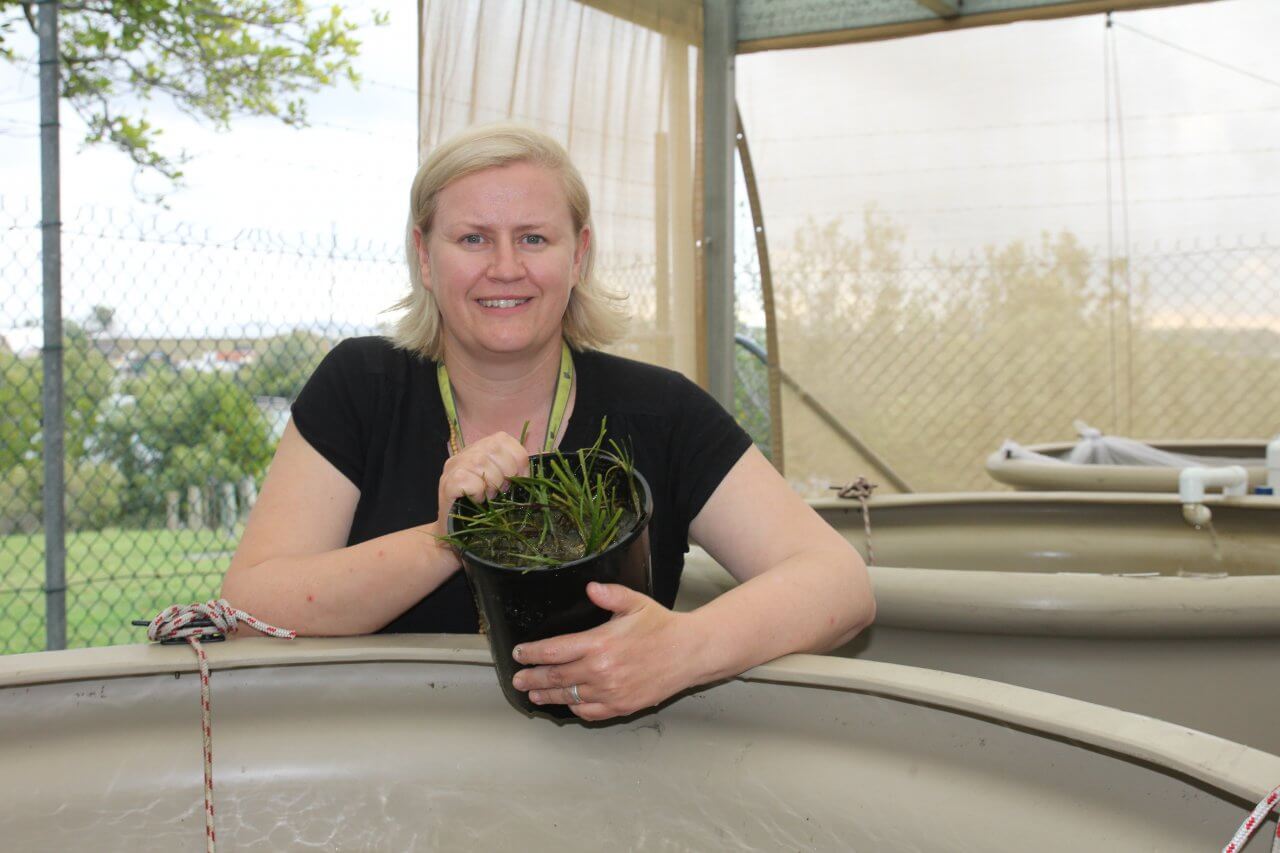 Why central Queensland is at the forefront of seagrass research worldwide
Assoc. Professor Jackson's team of laboratory and field scientists are committed to finding practical solutions to the challenges facing our coastal seagrass meadows. They have world-class research equipment and analytical capabilities. Staff also have strong connections to local industry, community, and First Nation People.
Construction of the only island-based seagrass nursery and research station in Australia with partial funding from FBA will be completed by April 2022. Located on North Keppel (Konomie) Island, nursery staff will research seagrass conditions on the Capricorn Coast and grow seagrass plants for transplantation to local waters to regenerate seagrass meadows.
What's the role of education in preserving and restoring seagrass locally?
Konomie Island Environmental Education Centre (KIEEC) specialises in environmental learning and can cater for up to 100 students a day. It attracts school groups, interest groups and organisations from across the nation who want to learn firsthand about threats to coastal environments and what they can do to change the future for good.
The unique island-based seagrass nursery reinforces KIEEC's role in supporting vital seagrass research and restoration work and, sending citizen scientists back into the community armed with enthusiasm and information to share about preserving coastal ecosystems.
Join the seagrass mission!
FBA and CMERC work year-round so there is always a volunteer opportunity for you, your family, sporting club or organisation. Below is a list of upcoming activities, if you are interested in joining any please contact the FBA Seagrass Guy (aka Mac).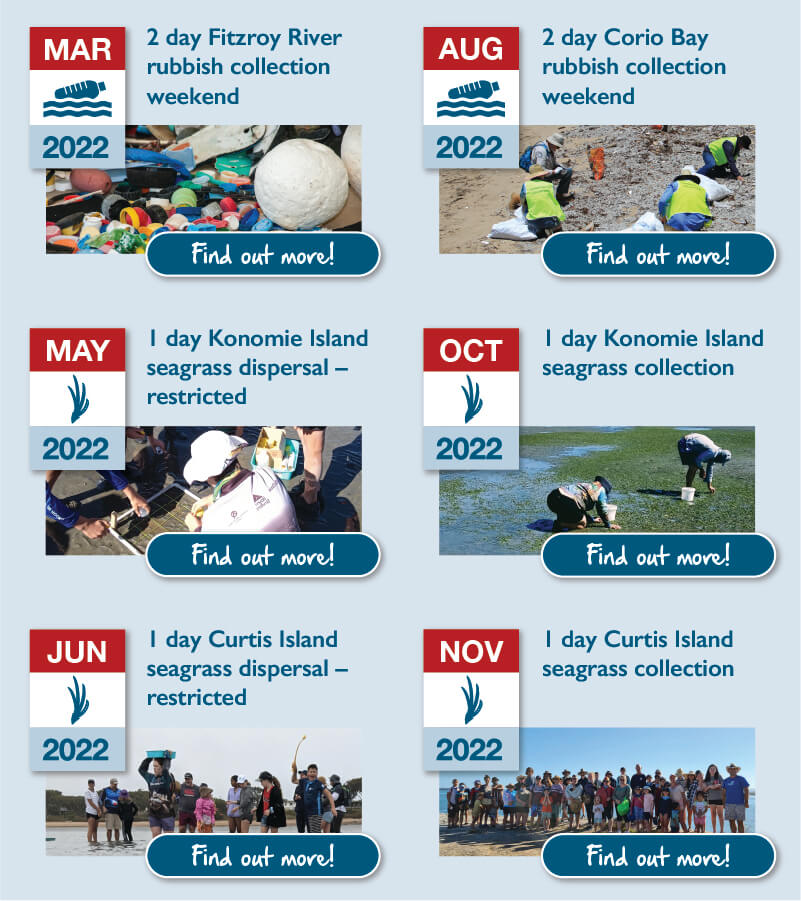 This project is supported by Fitzroy Basin Association and CQUniversity through funding from the Australian Government's National Landcare Program.