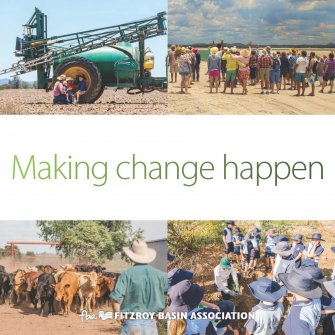 FBA Making change happen
Posted on March 22nd, 2017
Fitzroy Basin Association Inc. (FBA) builds partnerships to make a difference to our environment. Our 2017 prospectus Making change happen, highlights these partnerships and champions our commitment to building a better future for our region. To read more about Making change happen click here.

FBA strives to protect our region's natural assets; improve land condition and land management practices; and ensure healthy waterways flow to the reef.
At over 156,000 km2, the Fitzroy Basin is almost twice the size of Tasmania and is the largest catchment flowing into the Great Barrier Reef.
If you would like more information about Making change happen or the programs we run please contact FBA on (07) 4999 2800.