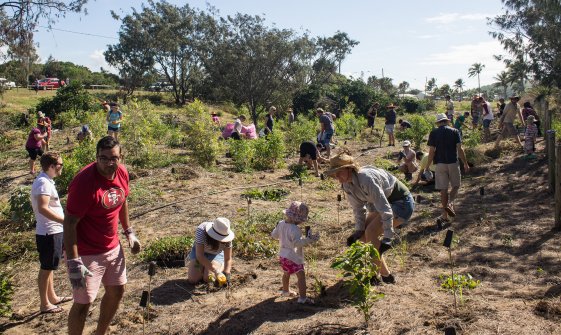 Community grants now open
Posted on March 27th, 2017
Have you got a great idea to help protect our region's special plants, animals or landscapes? Fitzroy Basin Association (FBA) might be able to help get your project up and running.

FBA has $120,000 for community grants funding now available through funding from the Australian Government's National Landcare programme.
FBA Engagement Officer Holly Lambert said grants are again being offered locally to fund environmental projects along our urban creeks and coastline up to the value of $20,000 per project.
"FBA regularly engages with community groups to support them in delivering projects that make a big difference to our local environment," Ms Lambert said.
"Our support enables community groups to access expertise, and to build their knowledge and capacity in caring for our region's natural resources.
"Project activities that might be eligible for funding include rehabilitating and revegetating sites, controlling weeds and pests, restoring dune systems, and collecting marine debris.
"Grants can also fund public, family-friendly engagement activities or educational programs that enhance community attitudes towards natural resource management and the environment.
"We are always on the lookout for new community partners and we encourage all community groups to start their applications now!" she said.
In 2016 GenYadaba, Bird Life Capricornia, Friends of Lammermoor Native Gardens, Capricornia Catchments, Capricorn Coast Landcare, Greening Australia and Conservation Volunteers Australia successfully applied for community grants for environmental activities and engagement opportunities that have helped to protect our region's special plants, unique animals and spectacular landscapes.
Applications for the community grants are now open, closing at midnight on 12 May 2017.
To download an application form, click here or for more information contact FBA Engagement Officer Holly Lambert on (07) 4999 2836.