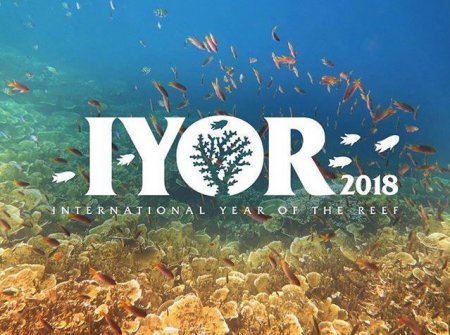 10 ways to protect the GBR in International Year of the Reef 2018
Posted on February 12th, 2018
Stop being disposable

Eliminating single use plastic is the easiest and most effective measure of positively influencing waterway health.
Why? Take plastic bags for instance, one less plastic bag per household, per week, would save 253 MILLION bags from ending up in landfill each year.
When the single use plastic bag ban is implemented on July 1 this year, it will have a monumental impact. Households and individuals can rise above plastic by removing disposable waste from their lifestyles. Disposable coffee cups, plastic straws, plastic toothbrushes and clip seal bags each have more durable, eco-friendly alternatives on the market. #noexcuseforsingleuse

Go and see the reef

Developing a connection with the most fragile Wonder of the World is critical in fostering a desire to protect it.
Witnessing the spectacle of the reef, from Far North Queensland to the most southerly point of the 2300km stretch of reef at Lady Elliot Island,  is the most empowering action that can be taken.
2018 is the International Year of the Reef, there is no better time to marvel at its diversity and become an advocate for its survival. #IYOR2018 #weareGBR

Learn about the relationships between catchment, coast and coral

Our environment is more connected than most people recognise or understand – with a direct relationship between land management practices and water quality. Regional, rural and urban households traditionally seek to reside near water, and as Gill explains in Finding Nemo, "All drains lead to the ocean!".
Small changes in behaviour such as washing your car on the grass, harvesting your own rainwater and creating a optimal habitat for native animals make substantial difference to the environment we love.

Plant a tree

The difference one tree can make: 1 tree can play home to 100's of species, can reduce loss of ground cover, fortify soil through a developed root system, neutralise your carbon footprint, introduce high levels of nutrients into the soil, provide shade and refuge for animals and livestock, and the list goes on!
If you're without room to plant a tree, you can sponsor a not-for-profit organisation to do so on your behalf.
Reputable organisations include: Plant a Tree for Me!  One Tree Planted or the Australian Koala Foundation

Use less chemicals

Household chemicals almost always end up being washed down a drain of some sort, straight into a waterway system.
Environmentally friendly alternatives to harsh chemicals include baking soda, soap, white vinegar and lemon juice.
In nearly every instance, a safer, naturally derived product will rival chemically laden products.
A great resource for a variety of alternative products and their applications can be found here:

Education

Information is currency and knowledge is wealth.
Understanding the human link from an ecological perspective and the impact we have upon all other living beings, including corals, is key to adapting our behaviour. Promoting and supporting the scientific pursuit of how to protect coral ecosystems is an ongoing journey.

Care for marine life

As coastal communities, Yeppoon, Emu Park, Boyne Island, Gladstone and Tannum Sands residents have some of the most picturesque landscapes in our backyards.
With this, comes the privilege of four-wheel-drive beach access.
During turtle nesting and hatchling season, four wheel driving becomes particularly threatening to the survival of a turtle hatchling, already only experiencing survival rates of 1 in 1000.
Please be mindful of destructive vehicular behaviour and unnecessarily leaving deep tyre ruts in the sand. Learn more here:

Marine debris: entirely avoidable!
FBA supports a variety of projects that work to minimise marine debris levels, of which plastic contributes up to 90%.
Find facts about marine debris here:  For more information about organisations making a difference to marine debris, have a look at Tangaroa Blue  Surfrider Foundation and Australian Marine Conservation Society

Donate time, skills or $

Time = Greening Australia, Environment, land and water, Conservation Volunteers Australia

Skills = Quoin Island Turtle Rehabilitation, Friends of Lammermoor Native Gardens, Capricorn Coast Landcare

$ = Greening Australia, Australian Marine Conservation Society, Sponsor a Crown Of Thorns (COTs) diver

Reef Blitz – an annual event in October, Reef Blitz promotes people-powered science for the GBR
Eye on the Reef – monitoring and assessment of different areas across the GBR
Mangrove watch – a partnership aimed at addressing the urgent need to protect mangroves
Reef Check – Engaging the community in hands-on reef research and education.
Coral Watch – global monitoring of coral bleaching with education about coral reef conservation.