Turtles about, so lights out!
Posted on October 19th, 2022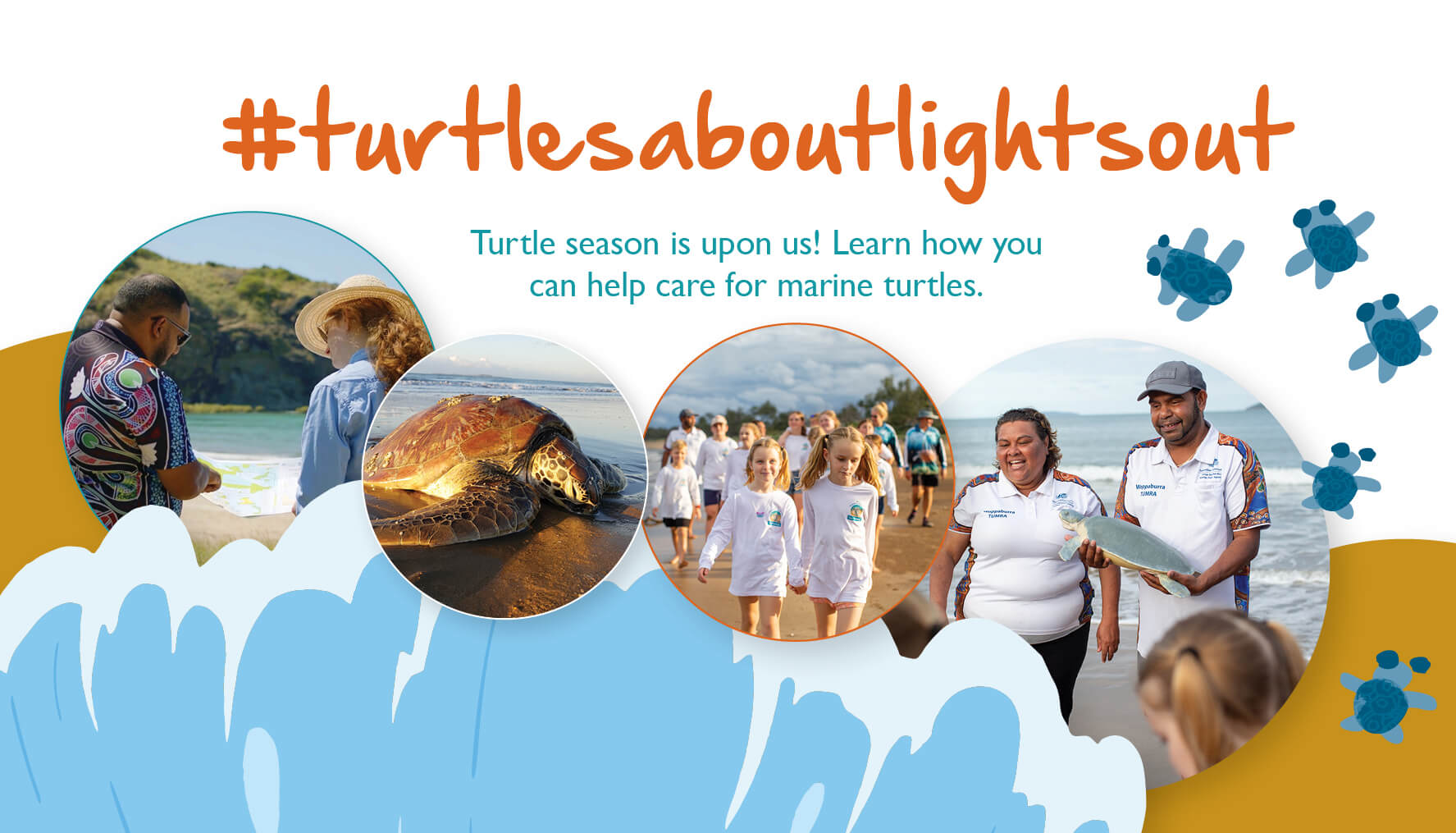 Central Queensland is home to six of the world's seven marine turtle species. Three of these species nest on CQ beaches. From October to December mother turtles use our beaches to lay eggs. Then from December to March hatchlings erupt from these nests and head to the ocean to start their lives.
Sadly, all of the marine turtle species found in Australian waters are facing serious threats to their survival which means without help they could disappear forever. Of every 1,000 hatchlings, only one will survive to adulthood.
Supported by Fitzroy Basin Association, Team Hatchlings (a local youth-led volunteer group) worked with Traditional Custodians, Darumbal Enterprises Pty Ltd and Woppaburra TUMRA to create an educational video that encourages CQ residents and visitors to help turtles by reducing their light pollution.
Watch the video
The problem (aka the glow)
Many bright lights from homes and streets create a glow. This glow is a big problem for turtles who are most active on our beaches at night time.
If beaches are too bright, because of the glow, turtles might leave to find a darker one to lay their eggs. Wasting precious energy.
The glow can also confuse turtles and hatchlings. Instead of going to the ocean, they can head towards towns and homes where the glow is coming from. This is dangerous as turtles need the ocean to survive.
How you can do to lower the glow!
Turn off the lights you don't need
In the rooms where you need light shut your curtains
Spread the word!
By turning off the lights you don't need and shutting your curtains you can lower the glow and help turtles find the ocean.
Most importantly, spread the word if we all make these simple changes, we can make a big difference!
---
Behind the scenes
In early 2021 FBA co-led the creation of the Capricorn Coast Community Action Plan (CAP). The Plan was created by working with local people and identified 12 local initiatives that support reef-wide efforts. One of these initiatives was Team Hatchlings.
The Team Hatchlings initiative was designed to run alongside the existing Team Turtle CQ project and focuses on awareness-raising through the development of youth-led media campaigns and merchandise for market stalls and local schools.
In late 2021 the Great Barrier Reef Foundation awarded the project funding from the partnership between the Australian Government's Reef Trust and the Great Barrier Reef Foundation with support from Fitzroy Basin Association.
Since project inception, the initiative has relied heavily on community collaboration and consultation. As such, First Nation groups, Darumbal Enterprise Pty Ltd and Woppaburra, are key project partners, educators and mentors to the enthusiastic hatchlings.
The Darumbal Traditional Use of Marine Resources Agreement (TUMRA) and Woppaburra TUMRA oversee a combined 37,167km2 of the Great Barrier Reef Marine Park along the Capricorn Coast. Under these agreements, Woppaburra and Darumbal People continue to develop and implement sea country management projects in partnership with marine management agencies and other organisations – like Team Hatchlings.
Working together to create the educational video
Team Hatchlings, Woppaburra and Darumbal quickly decided that an educational video aimed at Capricorn Coast youths explaining the impact of artificial light on marine turtles would be their key project. Workshops and meetings spread over the first part of 2022 brought the groups together to decide on key messaging and a video storyboard.
In early August, the group assembled to conduct filming and have a bit of fun
On 20 October the video was launched to coincide with the inaugural Capricorn Coast Turtle Hour. Team Hatchling members presented the video at five central Queensland schools and also spoke passionately about the role of youths in protecting natural assets.
To learn more about the amazing marine turtle conservation efforts in the Fitzroy region follow FBA on Facebook and Instagram!
This project is funded by the partnership between the Australian Government's Reef Trust and the Great Barrier Reef Foundation with support from Fitzroy Basin Association.