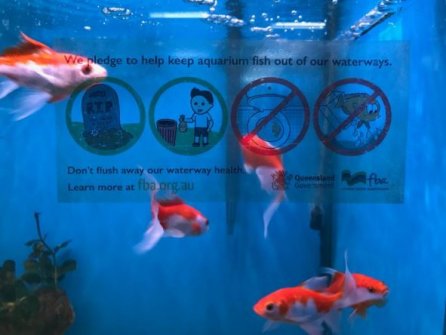 Toilet bowl no place for fish
Posted on July 11th, 2018
To help stop our region's waterway health from going down the gurgler, we've joined forces with local pet retailers to spread the message "don't flush your fish".
Although convenient, the "farewell flush" puts Australia's biodiversity at grave risk – a problem much larger than running out of toilet paper.
13 retailers in the Fitzroy Basin have proudly agreed to display the educational stickers on their fish tanks. While the tank dwellers are thrilled with their new home décor, these stickers, are helping to educate fish owners about the risks of improper fish disposal.


Foreign fish poses a danger as non-native seeds, diseases and eggs that may be attached to the funeral fish can enter our waterways. Like a bad smell, these exotic species create a home for themselves, it is very difficult or sometimes impossible to remove them. Our partnership with local pet retailers is designed to prevent infestations of non-native species through education.
This toilet talk is no laughing matter, as the current and local infestation of tilapia presently underlines. Tilapia is listed in the world's 100 worst invasive species. Within our region, confirmed tilapia habitats exist at Yeppen Lagoon, within the Fitzroy River and Raglan Creek. This species is nearly impossible to eradicate once it has been established in a waterway and threatens native species. Read more about Tilapia here.
We would like to thank the pet retailers who have taken the pledge to protect the health of their local waterways. And remember, in the sad event that your fish friend does pass away don't choose burial at sea, river or toilet. Instead, opt for the garden or rubbish bin.