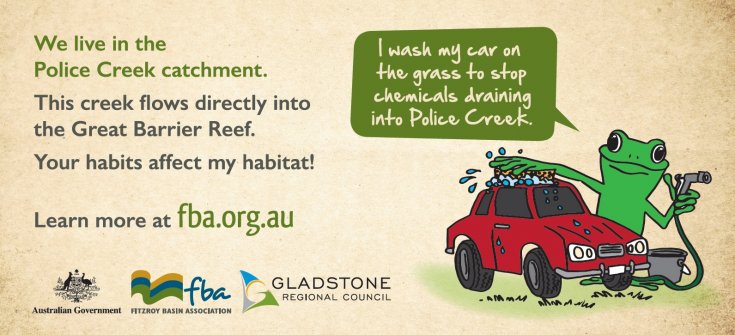 Caring for Police Creek
Posted on June 4th, 2018
Police Creek in the Gladstone region has a very high urbanisation rate, with 5089 households and businesses coexisting in close proximity to the waterways of this catchment.
Directly flowing into the Great Barrier Reef, the everyday, routine habits adopted by these households and businesses have a substantial impact on the water quality entering the ocean.There are a number of ways your household can have a positive impact – read more here:
Over the past five years, the Caring for Creeks programme, delivered by Fitzroy Basin Association Inc. (FBA) has substantially enhanced the long-term sustainability of Police Creek. Holly Lambert, FBA's Community Partnership Coordinator, says the project has changed the composition of three of the region's most utilized urban catchments.
The effects of this project will be enjoyed by generations to come," she said.
"FBA are most proud of the relationships we have built as a result of this funding. We have partnered with community groups, traditional owners, volunteers, industry, education providers and local governments to achieve a decade's worth of work in half the time."
Caring for Creeks began in 2013 through funding by the Australian Government's Reef Programme. At the time, it was an unprecedented financial commitment. Key objectives of the program funding included enhancing water quality draining into the Great Barrier Reef and supporting community partnerships to maximize long term benefits.
Over five years, $1 million was delivered on ground to improve fish habitats, undertake weed control, riparian revegetation, implement erosion control and debris removal.
We've used the funding to empower communities to become custodians for their creeks," said Holly.

"Creeks are nature's playground and their appeal lies in their biodiversity. FBA's hope is that communities living in each of these catchments now understand the role they play in protecting these waterways and the close link they share with the Great Barrier Reef."

FBA have also developed a comprehensive Restoration Guide to assist communities in caring for their local native habitats, promoting sustainability and offering a more complete picture for ecosystem health. You can read or download the full Restoration Guide here.
Gladstone Regional Council have worked in close collaboration with FBA to support the outcomes of this project. Learn more about their comprehensive approach to Environment and Conservation here. In nearby waterways, in the Calliope and Boyne Rivers, the public are currently on tilapia alert. It is important hence that those who frequent the Police Creek catchment are also aware of how to identify tilapia, and the 1 legal action to take if you catch one.
Learn more about managing the threat of tilapia here.
Want to get involved? Contact one of these local community groups!
Capricornia Catchments
Conservation Volunteers Australia (CVA)
Friends of Police Creek