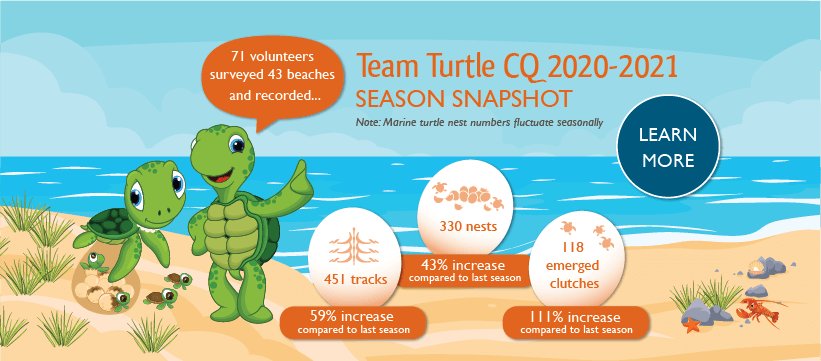 Team Turtle CQ volunteers turn in record numbers
Posted on June 9th, 2021
Much of the information known about marine turtles in the Great Barrier Reef World Heritage Area has emerged from research accomplished over the past 30 years by the Department of Environment and Heritage Protection.
A great deal of that research has been conducted by volunteers passionate about saving the lives of these precious and vulnerable animals.
Team Turtle CQ as it is now known started out in 2015, recruiting seven brave volunteers who were engaged to survey six beaches during the turtle nesting season. They found 54 tracks and confirmed the presence of 24 nests on those beaches. This new data laid the foundation for getting to know more about our amphibian friends who use and visit the Capricorn and Curtis Coast.
As the mission began to spread, more and more volunteers eager to lend a hand joined Team Turtle CQ. With more people on the ground, they were able to cover many more beaches and expand the horizons of where turtles were coming ashore to lay eggs.
Despite the impact COVID-19 has had on people moving around, the 2020/21 turtle hatching season saw the number of volunteers over the previous season up from 46 to 71. These voracious volunteers monitored a whopping 43 beaches, 15 of those on the Capricorn Coast, five on the Curtis Coast, six on Facing Island, four in Stanage Bay, one in Byfield and 12 in the Keppel Bay Islands.
This great work by Team Turtle CQ deserves a pat on the back. More volunteers mean more information collected, more areas protected and more hatchlings surviving than ever before.
Team Turtle CQ - Expression of Interest