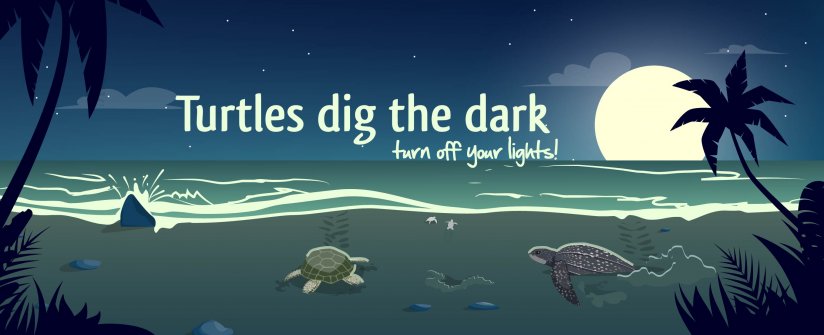 Marine Turtles Dig the Dark!
Posted on October 21st, 2020
Marine turtle season is underway and there is one key action every Curtis and Capricorn Coast resident can take to support both nesting turtle and emerging hatchling this season from October to March – turn off your lights!

As turtle hatchlings emerge from their nests, they seek the lowest, brightest light source to act as their guiding light to the ocean. Having navigated the oceans for millions of years, moonlight is nature's way of guiding the newborns to their marine habitat.

Fitzroy Basin Association is the proud host of Team Turtle CQ, a citizen science initiative engaging volunteers across the Curtis and Capricorn Coasts to monitor and record turtle nests, tracks and hatchlings over the October-March period.

FBA Community Participation Officer Lisa Del Riccio said that while volunteering regularly may not be an option for all, reducing light pollution is manageable from the comfort of home.
"Our amazing volunteers have documented that newly emerged hatchlings are becoming disorientated on their way to the water due to bright light sources on land," she said.

"This can result in hatchlings wasting their limited energy and giving predators a greater opportunity. With only 1 in 1000 hatchlings surviving past adolescence, it is critical that we take whatever steps we can to reduce human impacts on turtle hatchling survival."

FBA Community Participation Officer Lisa Del Riccio

A three-year study by Griffith University of light pollution on Curtis Island from 2012 – 2015 indicated that 20% of turtle hatchlings were disorientated as they made their way to the ocean.
Of course, being more mindful of the light you are generating from your home also brings with it benefits in reducing your electricity bill, practicing good sleep hygiene, brighter night skies and many more.

If turning off your light completely is not an option, you can consider redirecting light sources away from the ocean, drawing blinds or curtains, building vegetation to act as a screen, or transitioning standard outdoor lights to lights that are timed or activated by sensor detection.

Urban glow generated by townships can be reflected into the night sky, with a greater glow occurring on overcast evenings. Every light makes a difference in reducing light pollution.

Remember, marine turtles dig the dark!

Team Turtle CQ is funded by the partnership between the Australian Government's Reef Trust and the Great Barrier Reef Foundation