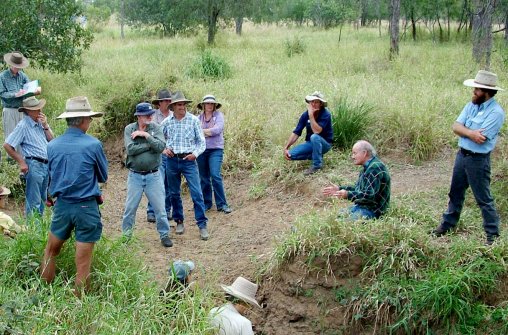 Landcare: 25 years on and still going strong
Posted on April 3rd, 2014
From humble beginnings in a small Victorian town to a national network spanning the length and breadth of the county, Landcare has grown significantly in its 25 years.
Fitzroy Basin Association Inc. CEO Paul Birch said the work Landcare volunteers do to protect Australia's biodiversity at a local scale is invaluable.
"Landcare volunteers help facilitate workshops, training sessions, wild dog removal programs and community engagement events. They also actively protect our fragile ecosystems by removing weeds and replanting areas with native vegetation," Mr Birch said.
Landcare became a national program 25 years ago when the National Farmers Federation (NFF) and the Australian Conservation Foundation (ACF) joined forces to successfully lobby the Australian Government to fund the National Landcare Program.
"The Australian Government continues to support the program and funds a regional Landcare facilitator in each of the country's 54 natural resource management regions—there are 18 Landcare groups in the Fitzroy Basin alone," Mr Birch said.
The Chairs of Australia's regional Natural Resource Management (NRM) groups recently met in Launceston to review and reconfirm their commitment to supporting Landcare and work to identify new opportunities for the network.
Chair of the National NRM Regions' Working Group Pamela Green said regional NRM bodies such as FBA having been working with and supporting Landcare groups across the nation for more than 10 years.
Mrs Green also welcomes the ACF and NFF's call for a new decade of action to tackle the challenges confronting Australia's land, water, wildlife and farmland.
"Looking after our land, waters and living things is a large and long-term task and needs all hands, heads and hearts working together to make a difference," said Mrs Green.
"We are currently working with Landcare and others in contributing to the Australian Government's design of the new National Landcare Program and look forward to supporting its implementation over the next decade," Mrs Green said.
Interested in starting a Landcare group, or in joining an existing group? Contact Fitzroy Basin Association Inc. on (07) 4999 2800 or admin@fba.org.au.