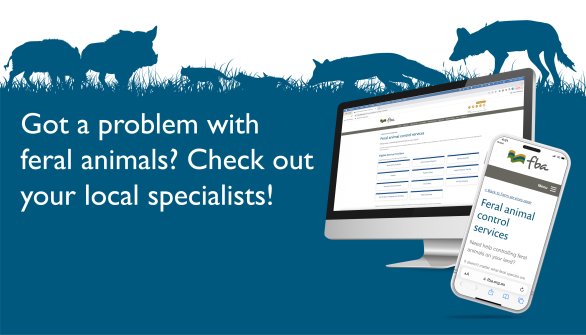 Fitzroy Feral Animal Control Specialists
Posted on October 12th, 2022
Need help controlling feral animals on your land? If so FBA has compiled a list of central Queensland specialists who can help.
Pest animals (like feral pigs, dogs and cats) have significant impacts on Queensland's graziers and growers, the environment and human and animal health. FBA is dedicated to helping CQ land managers improve their productivity, sustainability and profitability. To assist local land managers with pest management FBA has created a directory of reputable service providers.
The directory aims to connect farmers with specialists who understand central Queensland-specific challenges and landscapes. FBA's Ag Services Coordinator, Vicki Horstman, drove the recent update of the Feral Animal Control directory.
"It's important that land managers work with qualified and quality specialists. Where they operate isn't only their business but their home. FBA's farm advisory services aims to ensure that regional and remote people get quality service and results."
Funded by the Queensland and Australian Governments as part of the Queensland Feral Pest Initiative.