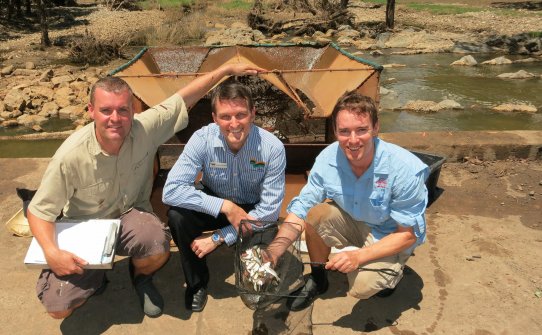 Fish territory expands thanks to ladder
Posted on April 29th, 2013
The Moores Creek fish ladder has expanded the territory for 29 species of juvenile fish that have been found in Moores Creek and its tributaries including very small barramundi, sea mullet, mangrove jack, tarpon, empire gudgeons, long-finned eels and pacific blue eyes, just to name a few.
Fitzroy Basin Association Inc. (FBA) and Fisheries Queensland staff undertook fish sampling in early 2013 to measure the success of the new fish ladder constructed in July 2012 thanks to Australian and Queensland Government funding and to gain baseline data on the Moores Creek system for future reference.
FBA's Coastal and Marine Coordinator, Shannon van Nunen said the sampling process involves setting a series of nets on the fish ladder that leads the fish into a small fish trap that is checked by Fisheries Queensland staff every 8 hours.
"These fish are removed from the net by a scoop and are identified, measured and added to the tally before being released upstream of the ladder into the upper reaches of the Moores Creek system to continue their migration," Mr van Nunen said.
"At this stage on average 600 fish, mostly juvenile fish are being recorded each day, with a total of 16 fish species identified including mullet, eels and catfish," he said.
"This fish ladder is allowing up to 185 fish an hour to migrate upstream in this unique section of Moores Creek that acts as a nursery habitat for juvenile fish.
Prior to the construction of the fish ladder the flow of water passing through pipes under the road across Moores Creek, was too high and fast for many fish to swim through, especially juvenile fish.
"The fish ladder which uses rocks secured with concrete to form 16 rock ridges set at regular intervals over 30 metres, creates a series of pools and small drops that are easily climbed by fish as they make their way upstream.
"The top ridge of the fish ladder slows and backs up the water through the pipes under the road so that fish can pass under the road and enter the upstream habitat.
"The high levels of local rainfall experienced in recent weeks tested the fish ladder structure and we are pleased that the structure has come out unscathed and lived up to its design expectations to withstand heavy flow events.
"Fish migration is essential to ensure the dispersal of species and maintain genetic fitness within fish communities and the Moores Creek fish ladder is helping to achieve this.
"Moores Creek is particularly unique as it is one of the most intact tributaries in the upper reaches of the Fitzroy, the largest catchment draining to the Great Barrier Reef," he said.