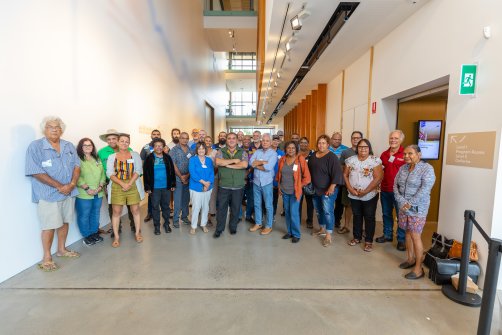 First Nations Groups Unite to Drive Change in the Health of People and Country across the Fitzroy Region
Posted on February 22nd, 2023
36 First Nations People assembled in Rockhampton this week with the objective to establish a collective Traditional Custodian-led voice to address representation and participation in Cultural Natural Resource Management.
Two representatives from the 17 First Nation groups in the Fitzroy region, and Woorabinda, were invited to participate in the workshop by a working group established in mid-2022. All 17 of the First Nations Traditional Owner lands are connected by Tunuba (the Fitzroy River basin). The condition of these interconnected systems impact the overall health of the catchment the health of the Great Barrier Reef, and its peoples.
The working group is comprised of four First Nation representatives from three different groups in the Fitzroy region, including Woorabinda Aboriginal community – Malcolm Mann (Darumbal), Deborah Tull (Gangulu), Milton Lawton (Woorabinda community) and Joseph Geas (Woppaburra). The working group and independent consultants, Allan Dale and Bino Toby, collaborated over nine months to create a culturally safe environment for high energy conversations with support from Fitzroy Basin Association and funding from the partnership between the Australian Government's Reef Trust and the Great Barrier Reef Foundation and Fitzroy Partnership for River Health.
"Today we sit near the banks of Tunuba and are united just like all the waters that fall across our catchment and passes through Darumbal country – unified with one powerful voice. This is what we are attempting to reflect, acknowledging our own unique differences, values, lores, customs, language and ways of being and coming together as one to elevate and support individual Traditional custodians like water drops into one loud and clear voice for our region."

Working group member Malcolm Mann
Many First Nations across central Queensland are leading Cultural Natural Resource Management work on land and sea Country. However, a regional barrier experienced by many First Nations are processes that hinder engagement. One of these processes is the lack of a distinctive, collective voice that gives each of the 17 Traditional Owner groups equal say in how the cultural natural resources of the Fitzroy are managed. A regional voice will create spaces for First Nation's to meet their traditional obligations support cultural exchanges, work on Country, keep people on Country, engage youth, and provide continuity and momentum towards priority actions. By building partnerships through the regional voice, credibility and trust in investors will enable more of this important and meaningful work to occur throughout the Fitzroy region.
"Our ancestors walked this land utilising all soils, waters, fauna and flora to survive. The freshwater rivers and creeks are a vessel that allow our people to continue to live. Understanding of our water ways teaches us that we belong to them we are here to watch over this precious source."

Working group member, Deborah Tull
"Two cultures have collided, Indigenous belongs too and protects, while we believe non-Indigenous has ruined and destroyed this precious source. With our own unique knowledge and understanding we can come together to ensure that our water ways are protected and not exposed to any future damage. Childhood memories swimming in waterholes is a memory that my grandchildren and generations to come will never know."

Deborah Tull
During the two-day workshop, participants collaborated to define the vision, goals and functions, governance structure and terms of reference for the regional voice. Further conversations will be prioritised to discuss the outcomes of the workshop, and partnerships and investment will be required to maintain momentum to establish the regional voice.
This week's workshop is an important step towards ensuring that First Nations People are intrinsically involved in protecting and caring for the health and future of central Queensland. The working group for the regional voice will commence connecting with regional partners in the second half of 2023 through the promotion of an investment prospectus.