Field day reveals preliminary results of drought resilience trials
Posted on September 6th, 2022
Goovigen producers Matt and Justine McLeod opened their property in late August to share interim results of side-by-side trials comparing organic and synthetic inputs on 96 separate plots across 8 hectares.
The McLeods received funding from the Australian Government's Future Drought Fund to test different soil applications to improve drought resilience on their property, Lake Pleasant.
Supported by Fitzroy Basin Association (FBA), the McLeod's trial was designed with help from the University of Queensland (UQ) and local agronomist Ross Newman. At the August field day, the McLeods shared the results with interested central Queensland land managers in hope of inspiring wider interest in techniques for making soils more resilient to drought.
Justine McLeod said the purpose of the trial was to better understand the impact of what they do on the land, and the value of what they produce compared to the cost of inputs across dozens of variables.
"We've recorded input costs on multiple species with synthetic and organic fertilisers and are using BRIX readings to measure feed value and soil health as we go. With each cut we'll bale, measure yield, monitor BRIX and track costs (in materials and effort). This information will enable us to see how the soil is responding to each treatment over time and the profitability of each of the plots."
FBA Land Management Officer Annie May said it has been a real labour of love for the McLeod's, but the data will be invaluable for grazing and cropping industries.
"This is an enormous commitment and even after the trial is completed, the McLeods will continue to work, refine, and share their findings with neighbours and other local producers. Having so much information about how to build drought resilient soils that are linked to profit outcomes helps land managers in so many ways."
"Matt and Justine have been working around the clock. It regularly takes them three full days in the field just to record BRIX, infiltration and penetration data which is important to show which combination of inputs are getting the best results."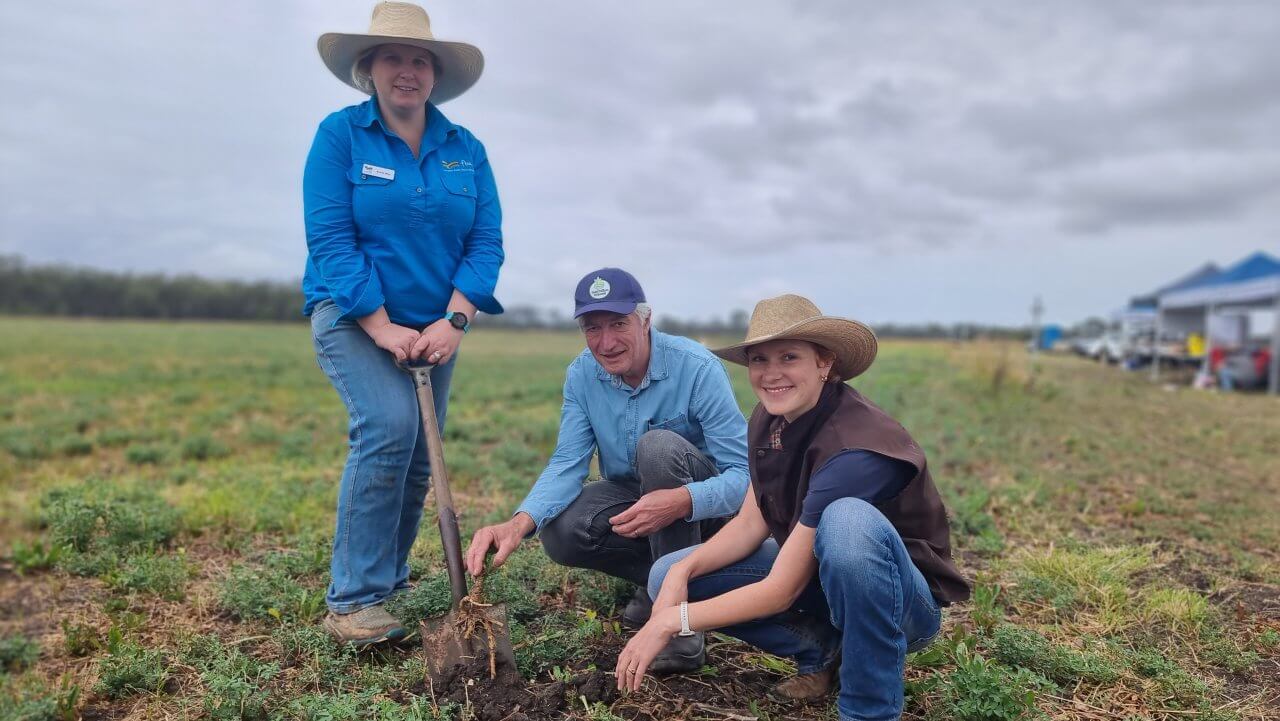 The Australian Government's Future Drought Fund Natural Resource Management Drought Resilience Grants support land managers to develop new methods for land to become resilient to future droughts. To qualify for funding, these methods must be practical, workable and deliver improved soil and, better business resilience. They also need to be replicable by other farms and deliver solutions to help maintain profitability during prolonged drought.
The trial has not been without its challenges, according to Justine.
"When we started out, we had no rain, so we had to nurse the paddocks for a while. And then we had too much rain, so we had to adapt quickly. But it's just the beginning of a longer journey because the biology of the soil takes years to strengthen."
"We've dedicated the paddocks to trial for five years, even though the FBA and UQ joint venture will finish at the end of 2022. However, we will be able to back what's worked and what hasn't with hard evidence to show which applications improve the drought resilience of soil, which save money and reduce labour."
The McLeods' trial is complicated because there are two of every combination of differing rates of synthetic and organic inputs applied to each lot. While Matt and Justine are monitoring things in the field daily, FBA with UQ and agronomist Ross Newman will conduct quarterly reviews of the data and guide the McLeod's in how to maintain rigour in their experiment and ultimately help them translate their raw data into profitability outcomes.
FBA's Annie May said the trial was great for other local producers and the industry.
"It's not just a matter of profitability. This is also an important way to get community involvement and contribute to stewardship of the land. We will be at the forefront of creating new ways for a piece of the country to be more prepared for drought and that must be an enormous benefit for all of Australia including central Queensland land managers."
Another field day will be held in early 2023. Keep an eye on our social media channels and website calendar for details.