FBA's Farming for the Future Forum
Posted on August 7th, 2023
August kicked off with a bang for Fitzroy land managers who attended FBA's Farming for the Future Forum. From August 2-3, event attendees learnt from some of the best minds in Australian Agriculture and focused on improving pasture, soil and animal health.
Guest Speakers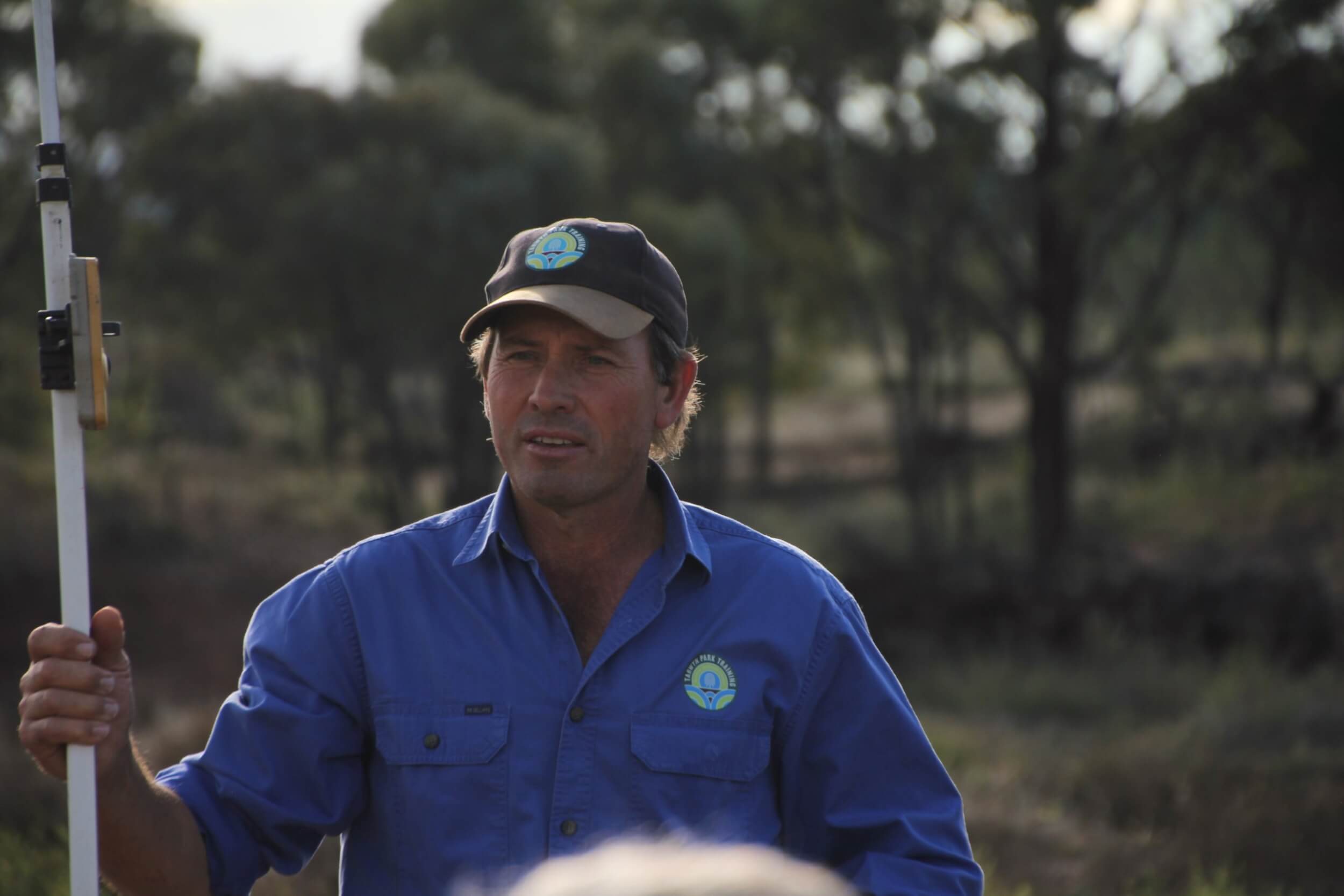 Stuart is the founder of Natural Sequence Farming, he focused on landscape function and how to restore CQ properties to be more resilient, productive and healthy. Using the principles of Natural Sequence Farming, Stuart's training included a mix of presentations and interactive sessions out in the field.
Scott is a farm educator, holistic manager, and working farmer. He got land managers thinking passionately about conventional farming, regenerative agriculture and Syntropic farming. Scott covered a range of topics including – mixed species cover crops and pasture crops, species succession, how to encourage biodiversity in grazing systems, carbon sequestration and much more.
Property Visit 1 – Koolibah
The first property visit was hosted by Cherie Gooding on her property, 'Koolibah'.
"It was a privilege to have everyone at my place to hold space for enthusiastic landscape regenerators and talk through the role of livestock, my trials, errors and continued learnings," said Cherie.
While Cherie spoke of her fear of judgment by opening up her property, event attendees highly valued the opportunity to see and learn from an experienced (and genuine) CQ property owner. Cherie has been applying the practices that Scott and Stuart taught and has learnt a lot over the last few years. Cherie's knowledge of her land and her livestock proved what is possible in CQ and was a highlight of the day for many in attendance.
Morning tea and Presentation from Stuart Andrews – Marlegoo
Lunch and Presentation from Scott Hall
Property Visit 2 – 'Greenfields'
After lunch the group travelled to Les and Anne Marshall's property, Greenfields where attendees got to see a Natural Sequence Farming style bank and dam structure.
Les and Anne were amazing hosts who shared their passion and learning with the forum attendees.
Farmer Meets Foodie Dinner
Dinner for the night was an evening celebrating the vibrant flavours of one of the most productive regions in Australia!
The 3-course dinner was a unique culinary experience showcasing the exceptional talents of local growers, whose farm-fresh ingredients took centre-stage.
This event was about more than just the food. It was an opportunity to connect as a community.
Ross O'Reilly from HighValley Dawn Permaculture Farm in Yeppoon spoke on the theme of community and told tales of how his farm had brought people together and changed their lives.
Andrew Brownlie from Andalia Pastora in Emerald shared the same sentiments and added how important it is that people know how their food is produced and how much he loves being a part of a process that delivers food from paddock to plate.
Day Two – FBA
Throughout the second day of the event, attendees learnt FBA's 'rule of thumb' approach to landscape management from a diverse panel of FBA staff and explored the behavioural science behind creating new habits and planning for change with Sam Moore from Evidn.
After the forum was over there was plenty of time for networking and providing feedback on the event. Attendee, Bianca Collins, spoke of her high hopes that stem from events like this.
"These are the type of things [events] we need to be learning as a new generation of land managers. I just think it's so important and it would be incredible to build the bridge that gets all generations learning these things," said Bianca.