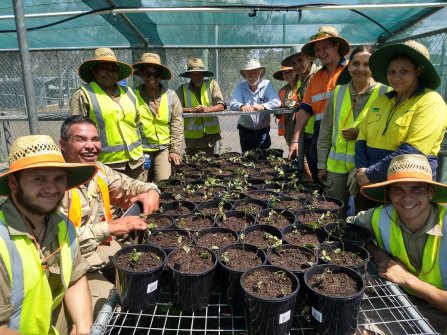 Community comes together to fight Cat's Claw
Posted on September 23rd, 2020
Thousands of tiny beetles have been carefully raised by Gidarjil trainees under Fitzroy Basin Association's biocontrol project to stop the spread of the Cat's Claw Creeper weed.
Cat's Claw Creeper is one of the Gladstone region's worst riverine invasive and persistent pests. The plant's extensive tuber root system penetrates deep into the earth while its vines grow at incredible speeds allowing it to climb and suffocate native vegetation.
To remove Cat's Claw Creeper, without killing the native vegetation below, pesticides normally cannot be used. Instead, the laborious job of hand removal or biological controls must be used.
Jewel beetles (aka Hylaeogena jureceki) are one of three approved biological controls for Cat's Claw Creeper. The beetle is a natural predator of the invasive weed, eating the vine's growing tips and reducing the vigour of the plants growing potential.
While the bugs do not kill the weed, they are a welcome relief for the Gidarjil trainees who are all too familiar with manually controlling Cat's Claw Creeper.
Gidarjil Trainees studying a Certificate I in Conservation Land Management have been an essential part of FBA's BioControl program. Since the programs initiation, FBA has worked with Gidarjil Development Program (GDP) to upskill their Conservation Land Management trainees.
Students who are studying a six-month certificate (through Skilling Queenslander's for Work Traineeship) visit the jewel beetle facility to provide essential manpower and learn about biological control methods. FBA Community Participation Officer, Lisa Del Riccio, is the project lead and has been instrumental in coordinating stakeholder engagement and achieving program success.
"One of the joys of my job is working with the Gidarjil Trainees. I get so much out of working with all the different groups that transition through each six months," said Lisa.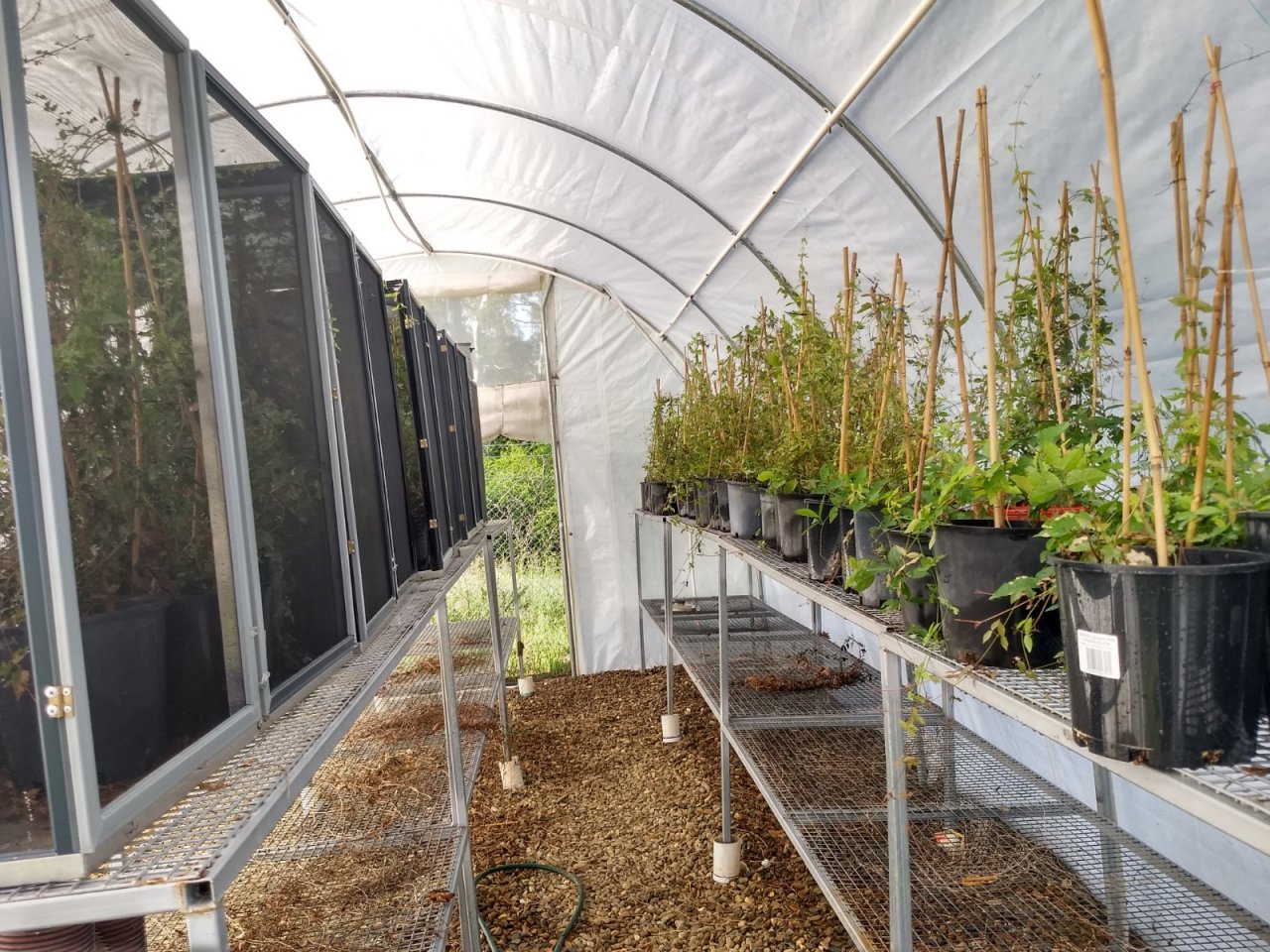 Many students have contributed and cared for the jewel beetle project over the years. One such student is Gidarjil man Codey Stow.
In 2018 Codey commenced his studies through GDP and quickly proved himself to be a dedicated and passionate student. Once completing his Certificate I in Conservation Land Management, Codey was ecstatic to be offered a position as a Gidarjil Land and Sea Ranger.
"Before I became a ranger I was distracted from my country. Now I am passionate and dedicated to saving it for future generations," said Codey.
The biosecurity and the bio-control lessons that Codey gained through FBA's program have helped Codey in his day-to-day work as a Ranger. "We rangers spend a lot of time on the water and islands treating weeds. You don't know that a weed is a problem until it has grown and by then it's too late. We have to take special care when visiting islands and country, to ensure that we don't introduce any invasive species" Codey added.
Through hard work Codey has proven himself as a reliable and motivated employee and as such was recently was appointed the position of Supervisor of the Gidarjil Land and Sea Rangers. In this position Codey oversees a team of Rangers working across land and sea to protect and enhance natural assets.
"Everyone needs to understand our land and how to take care of it because it takes care of us. If we keep taking over, and we keep treating it how we are, it's not going to keep providing us with the resources we need to survive," said Codey.
The Cat's Claw Creeper project is just one example of what can be achieved when stakeholders and the community come together under a common cause. Through effective stewardship this project will continue to fight against Cat's Claw Creeper.