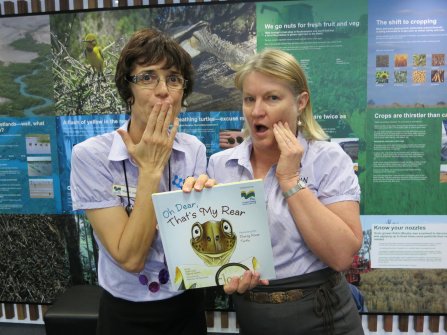 Book tells story of threatened bum breathing turtle!
Posted on April 29th, 2013
The Fitzroy River Turtle, a vulnerable species only found in the creeks and rivers of the Fitzroy Basin and known for its unique ability to breathe through its bottom, is now the star of a new book 'Oh Dear, That's My Rear'!
Fitzroy Basin Association Inc. (FBA) has developed this beautifully illustrated and cleverly written picture book to help raise awareness of this special creature with our future generation of leaders, farmers, miners and business people – our children.
FBA CEO Paul Birch said the book was the perfect gift for children, and was also great for teachers.
"This book aims to raise awareness about what is unique about our Fitzroy River Catchment and tells a local story in a smart and quirky way," Mr Birch said.
"The book has been written by FBA's FLOW Visitor's Centre staff. It builds on the aims of FLOW, a public space designed to entertain and educate the community about the Fitzroy Basin.
"Rheo, named after the turtle's scientific name Rheodytes leukops, has been brought to life by local artist Marilyn Williamson who has captured everything we had hoped Rheo would be.
"It is through stories and learning about these special creatures that people want to protect them. This book is sure to have the kids and their parents giggling," he said.
The hardcover book is on sale at the following locations for only $15.99:
FLOW Visitors Centre, Corner of East and Denham Streets, Rockhampton
Fitzroy River & Coastal Catchments, 14 Wandal Road, Rockhampton
CQ University Bookshop, Rockhampton Campus, Bruce Highway, North Rockhampton
Capricorn Educational Resources, 52 Alexandra Street, North Rockhampton
My Sisters House, East Street, Rockhampton
The Botanical Gardens Tea Rooms, Rockhampton Botanical Gardens
CQ University and Capricorn Educational Resources are also stockists of a Teacher's Literacy Pack for the book, which includes 6 copies of the book and two sets of activity cards for $79.99.
FBA has been working with Greening Australia to protect these special turtles through monitoring, awareness raising and nest protection activities thanks to funding from the Australian Government.
If you want to be involved in the preservation of this species by volunteering your time to protect their nests from predators, call Warren Anderson from Greening Australia on 0439 745 366.
By purchasing 'Oh Dear, That's my Rear' you are supporting the work of FBA, a non-profit group that coordinates natural resource management in Central Queensland, this includes working with other groups and the community to protect threatened species like the Fitzroy River Turtle.