BioCollect app for koala data will improve species survival
Posted on May 18th, 2022
A citizen science smartphone app for collecting and sharing data about koalas has become a vital source of research information for universities, conservation organisations, wildlife carers and governments. The app has also been adopted by Fitzroy Basin Association (FBA) to collect data for its koala protection project in the Clarke-Connors Range.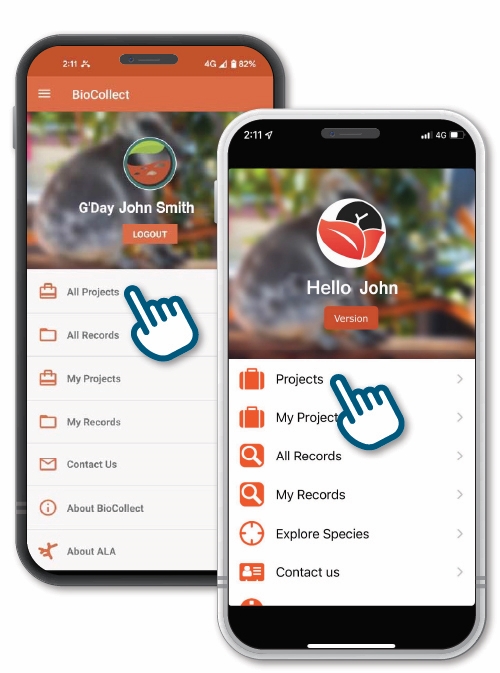 This project is supported by FBA through funding from the Australian Government's Environment Restoration Fund. FBA is currently working with local land managers to improve the health of koala habitat within the Clarke-Connors Range.
The project relies on citizen scientists to record observations of koalas. In such a vast geographical region, enlisting the help of land managers, citizen scientists and other volunteers helps collect more data faster than if just relying on scientists in the field.
Several land managers in the region have already put their hands up to help with weed control, fencing and fire planning to improve habitats.
It is the same land managers and many more citizen scientists and volunteers that FBA are encouraging to download the BioCollect App, that's both easy to use and helps collects accurate information on koalas and their habitats. FBA Senior Science Officer Mark Schultz has been overwhelmed by the response to the project.
"We've had great feedback and lots of assistance from land managers keen to do what they can within their own property to help look after koalas which, makes our job much easier and more engaging when working across such a vast area," said Mark.
About BioCollect and how it helps
The BioCollect mobile app is designed for and used by citizen scientists and allows you to record data in the field. It uses your device features such as the camera, clock, and GPS to improve usability and data recording efficiency. As well as the koala data collection app, it lists hundreds of other projects run by citizen scientists across Australia recording and sharing data on all manner of flora and fauna.
A project already exists in the app for mapping koalas in the Clarke-Connors area where you can add your observations.
Called the Koala Mapping Mackay & Whitsundays project and hosted by the Atlas of Living Australia, it was launched in 2013 by Ian Gottke from Padaminka Nature Refuge Koala and Rescue Care (PNRKRC). Since creation the project has racked up nearly 1,000 entries about local koalas.
PNRKRC has reported a tenfold increase in the number of sick and injured koalas coming into their care since the launch, but more information is still needed as to understand why numbers have grown.
"In response to the increasing number of koalas coming into our care and the lack of information regarding the local populations, we started the koala mapping project. Everyone can help to conserve this unique species by adding their observations in the app. By protecting koala habitat, we are ensuring the safer future for all wildlife," said Mr Gottke.
The information collected in the BioCollect app has many uses, including:
More accurate data for better recommendations to improve habitat and survival strategies
Tells carers where to return koalas after successful rescue and rehabilitation
Pinpoints locations of koala colonies
Monitors the health of populations and success of conservation programs
What type of information is needed?
The date and time of koala sighting
Location of koala– on the ground, in a tree?
Condition of the koala – did it seem healthy or unhealthy?
The size of the koala
If there were any young with the adult koala
Download the BioCollect app and get started as a citizen scientist
Getting started only takes a couple of minutes.
Search for the BioCollect app in your Apple or Android device app store and for step by step instructions about how to setup and use the app click on this image that will guide you through process. You will be up and running in no time.
Important upcoming events about bushfire preparedness and koala biodiversity
Bushfire preparedness is another important way that land managers in the Clarke-Connors Range can help koalas while safeguarding their property.
If your property is in the Clarke-Connors Range, is larger than 1.5ha or adjoins a very large natural area, you are invited to a Property Fire Information Session and a Fire Management Planning Workshop to learn about fire preparedness and how to create a fire management plan. In order to attend the workshop, you must RSVP with your property details and attend the information session component prior.
WHAT:  Koala Biodiversity and Property Fire Information Session
WHERE:  Nebo Memorial Hall, Reynolds Street, Nebo
WHEN:  20 October 2022 | 5:30pm – 8:30pm
WHAT:  Fire Management Planning Workshop
WHERE: Nebo Memorial Hall, Reynolds Street, Nebo
WHEN:  22 October | 9:30am – 4:00pm
Please RSVP by 6 October via Eventbrite
For more information about the Clarke-Connors Range Koala Climate Change Refugia Project contact:
FBA Senior Science Officer Dr Mark Schultz
P: 07 4999 2814
Mark.Schultz@fba.org.au
This project is supported by Fitzroy Basin Association through funding from the Australian Government's Environment Restoration Fund.