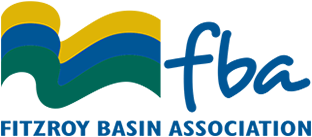 Annual Report highlights achievements and scope of work
Posted on November 6th, 2013
In 2012/13 FBA delivered $18.1 million on-ground to manage natural resources and improve water quality. Learn more, view our 2012/13 Annual Report.
From the Chair
I'm proud to deliver my first report as Chair. While our previous Chair Charlie Wilson needed to step back from the demands of the role, I'm pleased he has remained a Board Member as he is an  excellent ambassador for FBA. FBA works to strike a balance between industry, development and the environment. In particular, we excel at sharing information that helps farmers and graziers make more sustainable land management decisions. It is why we were able to successfully deliver our biggest undertaking of on-ground projects to date in 2012-13 through the Reef Rescue component of the Australian Government's Caring for Our Country initiative. The value of FBA's work, and that of other natural resource management groups, was recognised through the Reef Plan report. It pointed to reductions in sediment reaching the Great Barrier Reef, proof that partnering with land managers to make on-ground changes is making a difference to water quality. Reef Rescue has been extended for an additional five years so these improvements will become even more significant in the years to come. In addition, funding from the Queensland Government and other grants will help us continue our vital work to improve landscapes, protect native species, wetlands and sensitive coastal areas. Over the past 12 months our Board has worked closely with senior managers and our delivery partners to review our delivery model. The Board also travelled to Theodore for a regional meeting and enjoyed the opportunity to talk to local land managers at a networking barbecue. We are very fortunate to have a talented and dedicated team at FBA and I'm excited for the year ahead.
Ian MacGibbon
From the CEO
What a year! In 2012/13 we invested a record amount of funding – $18.1million in on-ground projects in the CQ region. This allowed us to work with land managers to develop 450 projects to improve land condition and water quality. More than 5,600 people have discovered FLOW Visitors Centre, which also celebrated its first anniversary this year. The centre is proving to be a valuable resource for teachers with school groups visiting regularly for tailored education sessions. Grazing BMP is now in full operation with five modules being delivered, while Grains and Cotton BMPs have continued to expand. FBA is the host organisation for and a major partner of the Fitzroy Partnership for River Health which delivered the first report card on the collective health of waterways in the Fitzroy Basin. We also helped establish the Gladstone Healthy Harbour Partnership and I took on the role of Chair. Befitting our role supporting a large, beef-producing region, this year we joined an elite group of industry world leaders as a member of the Global Round Table for Sustainable Beef. Our Muster event held in October 2012 was a great success and highlighted our achievements and strong partnerships with government, industry, land managers and community groups. These achievements would not have been possible without the hard work and dedication of my staff and our 5 delivery partners (FRCC, CHRRUP,DCCA, Boyne Calliope and Three Rivers). Our delivery partners did an amazing job ensuring our record amount of funding was invested in on-ground projects across the basin, in the biggest year in FBA's history. Congratulations everyone. Our team looks forward to building on our existing partnerships, and fostering new ones, to continue our vital work to protect and improve the condition of natural assets in Central Queensland.
Paul Birch
Learn more view Fitzroy Basin Association's 2012/13 Annual Report.