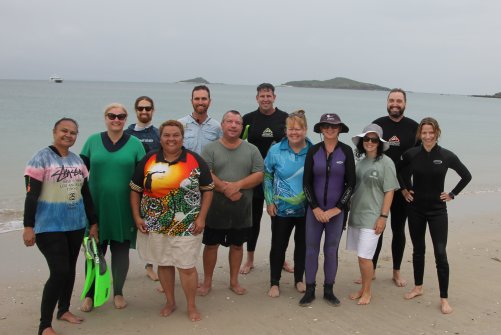 North Keppel Island (Ko-no-mie) Seagrass Seed Hunt
Posted on December 8th, 2021
A group of Fitzroy Basin Association (FBA) staff joined CQUniversity researchers on North Keppel Island (Ko-no-mie) recently to collect seagrass fruit and seeds.
Seagrass communities are a critical habitat considered vital to the survival and health of marine environments. They provide important ecological services such as, filtering waste, preventing erosion, sequestering carbon, nursery habitats for fish and shellfish, and important food sources for threatened species such as dugongs, turtles, and shore bird populations.
CQUniversity has reported that seagrasses are disappearing globally. Due to human activities seagrass cover within central Queensland has been declining.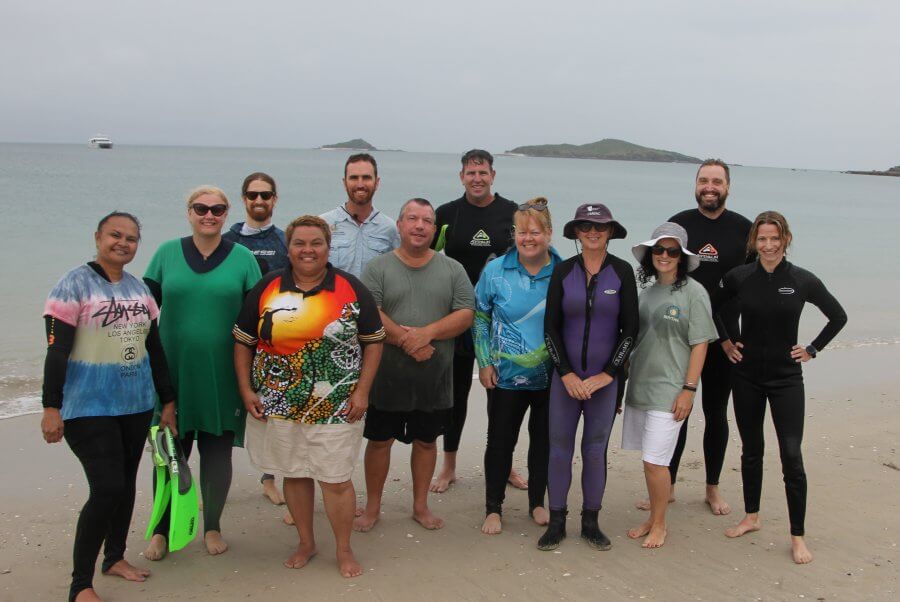 In a brief lecture from CQUniversity's Associate Professor Emma Jackson on arriving at NKI, she described seagrass as the kidneys of the Great Barrier Reef vital to the health of the marine ecosystem.
Inspired by Dr Jackson's passion for all things seagrass, the team made its way to Considine Beach with the aid of North Keppel Island Environmental Education Centre (NKIEEC) staff.
The deserted island beach soon became a hive of activity as team members, dressed in stinger and wetsuits, snorkelled in the shallows to dive on seagrass meadows just offshore.
The mission: collect samples of seagrass from the ocean floor with roots intact for processing and research at a laboratory in Gladstone.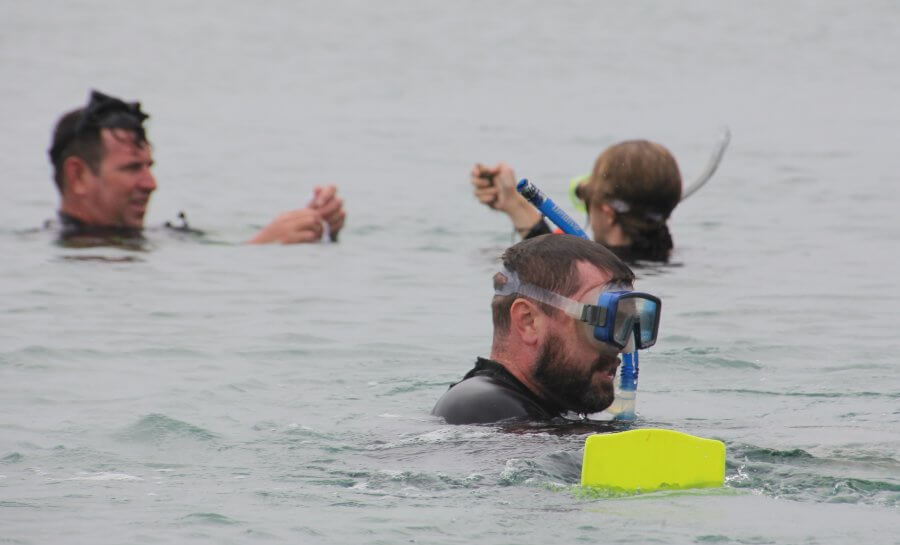 Each snorkeler equipped with a mesh bag duck-dived on seagrass for nearly two hours. They transferred full bags to buckets of seawater for transportation to CQUniversity's Coastal Marine Ecosystems Research Centre (CMERC) in Gladstone. Once at CMERC, Dr. Jackson's team would later extract the fruit and seeds for the process of germination.
With seagrass collection duties out of the way, the team inspected the construction site of the island-based seagrass nursery facility.
Partly funded by FBA, the nursery will eventually house growth chamber tanks, a wet lab and tools of the trade need to monitor and manage coastal ecosystems. Seeds processed at CMERC will eventually be returned to the nursery where NKIEEC and CQUniversity staff would take part in growing seagrass in the controlled environment tanks.
Freshly grown seagrass will then be planted in coastal waters to improve the resilience of local marine ecosystems by rapidly multiplying, producing habitat and food for marine fauna.
With FBA's help, this nursery will become the only island-based seagrass facility in Australia when completed and possibly one of few in the world where this innovative research happens.
This project is supported by FBA, through funding from the Australian Government's National Landcare Program.