Meet Vicki – FBA's Regional Agricultural Landcare Facilitator (RALF)
Posted on May 18th, 2020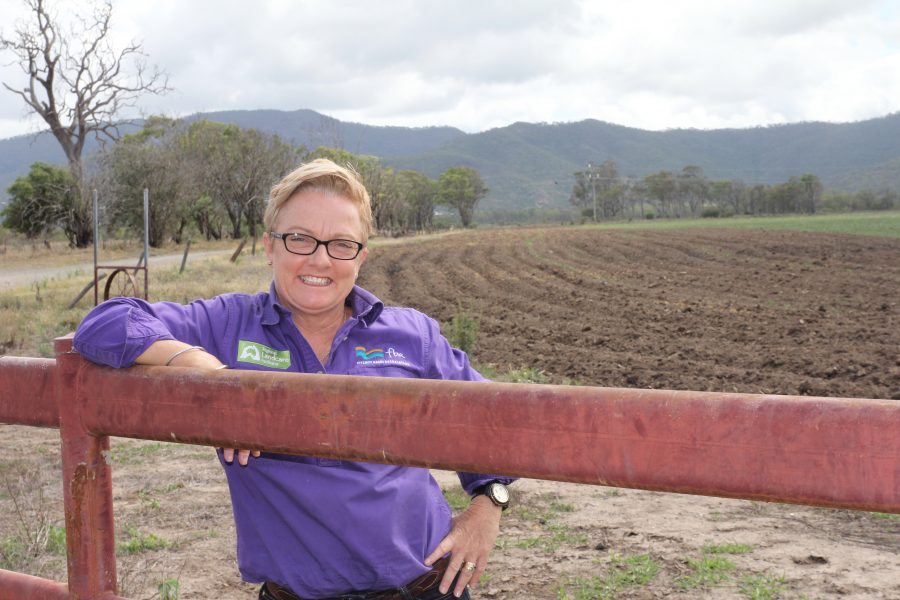 Tell us a bit about yourself…
I was born in Rockhampton and raised in a nomadic family, I am the daughter of a pastoral contractor, and I spent most of my childhood travelling all over the outback and central highlands of Queensland as my father built fences and cattle yards.
At university, I studied a Diploma of Agronomy at University of Queensland in Gatton. Having always lived and worked on the land, I pursued a 15-year long career as an agronomist, working with irrigated and dryland cropping enterprises.
Recently, I have pursued a passion of mine to support the mental health of rural communities and am a qualified Rural Minds Mental Health Trainer.
I love being outdoors, horse riding, camping, fishing and love the peace and quiet of a good book.
How long have you been a RALF?
I have been the RALF for the Fitzroy region for the past three years. Placed at Fitzroy Basin Association, it is a position that I had always coveted. I take my responsibility as a RALF seriously and sometimes I'm the only person a landholder may see for a number of weeks.
The position of a RALF is highly adaptable to meet the needs of our stakeholders and rural communities. Part of what I view as central to my role is caring for the sustainability of our environment, our rural businesses, and ourselves. It's important to me that the sustainability of a landholder's enterprise is looked at from all angles.
In the past I had been working for a smaller regional group for 12 years in Emerald, predominantly working with Grains BMP so I supported dryland farming and the odd grazing land management project. I worked full time, raised my daughter and resided on the outskirts of Emerald, on small acreage growing forage as a small business for about 10 years (through the selling of the hay I made a lot of contacts in the grazing industry in the region). My father had a stroke so I made the choice to take a redundancy when my funding ran out and moved to the Capricorn Coast.
Could you list the various activities you undertake/participate in on an average day in your role?
An average day as a RALF is never average. On any one day I could be driving across the region, participating in stakeholder meetings with government or industry, facilitating training or supporting a Landcare association activity. Predominantly in the Fitzroy NRM region, I work with graziers, grain growers, landcare groups and producer groups. A large part of my role is engaging with these rural and remote communities to better understand how the role of a RALF and other agricultural field staff can support them. My conversations with landholders and community members then shapes planning for events and workshops, to deliver needed information to the right people, in the right way to support and leave a positive impact.
What would you say occupies your time the most?
I take pride in delivering solutions to landholders that are appropriate for their needs. Delivering new and highly valuable workshops is only half of the solution. I dedicate time to ensure everyone has equal access to information and programs, removing barriers to participation. This is where I invest the most time in my role.
What's been the greatest challenge in dealing with (either or all) the recent bushfires, droughts and covid-19 (including with your role, the landscape and community)?
Drought has been one of the barriers preventing landholders from engaging in training recently, as graziers continue to water and feed stock. Drought has also had an impact on the collective mental health of our rural communities, who have endured great risk on their properties, resulting in an ongoing struggle to plan for the future.
Dryland farmers have been challenged also, with no moisture to plant. I encourage farmers to take this time to concentrate on maintenance and family time. I have been sourcing for the RALF program, facilitators and partners who are focusing research on crop varieties that can handle harsher growing conditions. There is hope for landholders despite the persistent challenges, and I see it as my role to harvest optimism and keep an awareness of research and innovative methods that could provide some future relief to landholders.
COVID-19 has limited my ability to roll out parts of my face-to-face workplan and has meant that I cannot travel across the region. My focus has shifted to reporting, designing my workplan for 2020-2021 (including considering how my workplan can proceed in line with Covid-19 restrictions) and engaging with stakeholders in a different manner (the gift of the gab is useful for phone and video communication)!
What have you done to adapt to these challenges (e.g. work from home, check in regularly with other RALFs and farmers, suggest changes to farming practices etc.)?
I have organised a contractor to facilitate a Zoom session SWOT (Strengths, Weaknesses, Opportunities, Threats) analysis for our workplans and had a couple of QLD RALFs join to provide feedback
I have been on webinars to learn how to facilitate a Zoom session and had a meeting with my Community of Practice (RegenAG group) with Zoom.
I plan to go back to my RALF mentors and hook up with them via Zoom to see what their thoughts were on how to proceed, with the role, under COVID-19 restrictions
I continue to meet with other FBA staff, including those working on other RLP programs, to see if there is anything the RALF can do to help.
How important do you think it is to ensure sustainable agriculture practices are continued and advanced?
People look for continuity in times like this. Reliability is important; although our rural communities are already isolated, the services provided to them have had to adapt. It is critical that sustainable agriculture practices do not go by the wayside while face-to-face communication is not possible. We are very lucky that we can continue offering support through resources and information to our landholders. Continuing to call the people I am working with to keep them up to date is vital, but checking in on people's welfare is equally as important. It will mean that once COVID-19 is over, we can resume right where we left off.
How do you think youth can engage with sustainable agriculture?
The link between landscape health, livestock health and human health are closely intertwined.
People need to learn how their food supply chain works, and to actively participate in it. Knowing food miles, or understanding the practices of producers should drive purchasing to support our own local Australian industries.
How do we get this to happen?
Begin teaching sustainable agriculture at school. FBA has a wonderful educational program available to the general public and schools across the region. The key message in this program centres around belonging to a catchment, and the various impacts of land use on our region and waterways. Since its inception, we have welcomed over 25,000 people through the program. I view it as an important time to engage with the next generation of farmers, particularly through boarding schools and agriculture focused institutions, to impress upon them the principles of sustainable agriculture and the flow-on benefits for profitability and productivity. Valuing agriculture and linking its activities to education and livelihoods of communities will ensure there is a farm for them to inherit.
What's your favourite thing about/most rewarding part of being a RALF?
Seeing our beautiful country while on the road and working with a great bunch of amazing people.
How can landholders, landcare groups and the community contact you?
Anyone looking to get in contact with me can email vicki.horstman@fba.org.au or call on 0419 160 537