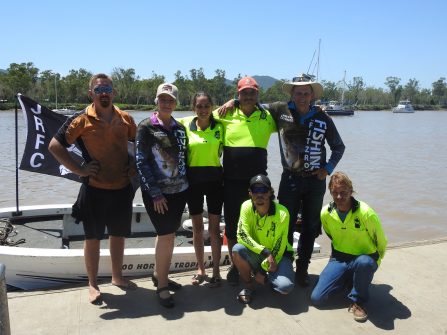 Jolly Rogers strike gold with $10,000 of funding
Posted on March 21st, 2019
The Jolly Rogers Fishing Club have struck gold on their hunt to rid the Fitzroy River of hazardous waste thanks to funding from the Australian Government's National Landcare Program. Instead of declaring an attack on vessels (like bandits of the 18th century) the local pirates have a vendetta on plastic polluting our local ecosystem. The funding, delivered by Fitzroy Basin Association Inc. (FBA), will support the Jolly Rogers to remove floating and submerged hazardous objects in the Fitzroy River.
For 18 months, an army of 300 community members has been sweeping the local waterways every week for rubbish. In 15 vessels and with members as young as five, the volunteers always return home with a vast amount of discarded trash. Having only scratched the surface of this war on waste the community group applied for FBA's grant to remove more rubbish.
FBA's annual Community Grants provide support and resources for local groups to enhance the special places and species they hold close to their hearts. The bounty of funds that the Jolly Rogers Fishing Club has received will allow the group to continue their work, charter new territory and rid the river of more rubbish than ever before.
Using part of their $10,000 grant, the Jolly Rogers have purchased personal protective equipment which has allowed trained members to enter different areas of the Toonooba river and remove years of built-up rubbish and waste. Multiple techniques are used to remove the rubbish, including heading overboard onto embankments and staying onboard and using specially designed hooks to haul-up smaller floating objects from the water. All volunteers take special care not to disturb the native animals and plants. While impressive, their job is still far from done. Despite their mighty efforts, the Jolly Roger's club see no end in sight to the war in the Fitzroy River until more upstream solutions are put in place.
Jolly Rogers Fishing Club relies on the generosity and dedication of its members and is always seeking community participation. With 300 members, the club brings together people from all walks of life. Anyone is welcome to join, more members means more rubbish is removed from the local environment. The group leaves the southside Rockhampton boat ramp at 10am each Wednesday after a training session for new comers.
If you would like to learn more about the Jolly Rogers Fishing Club visit their Facebook page or website www.jrfc.com.au.