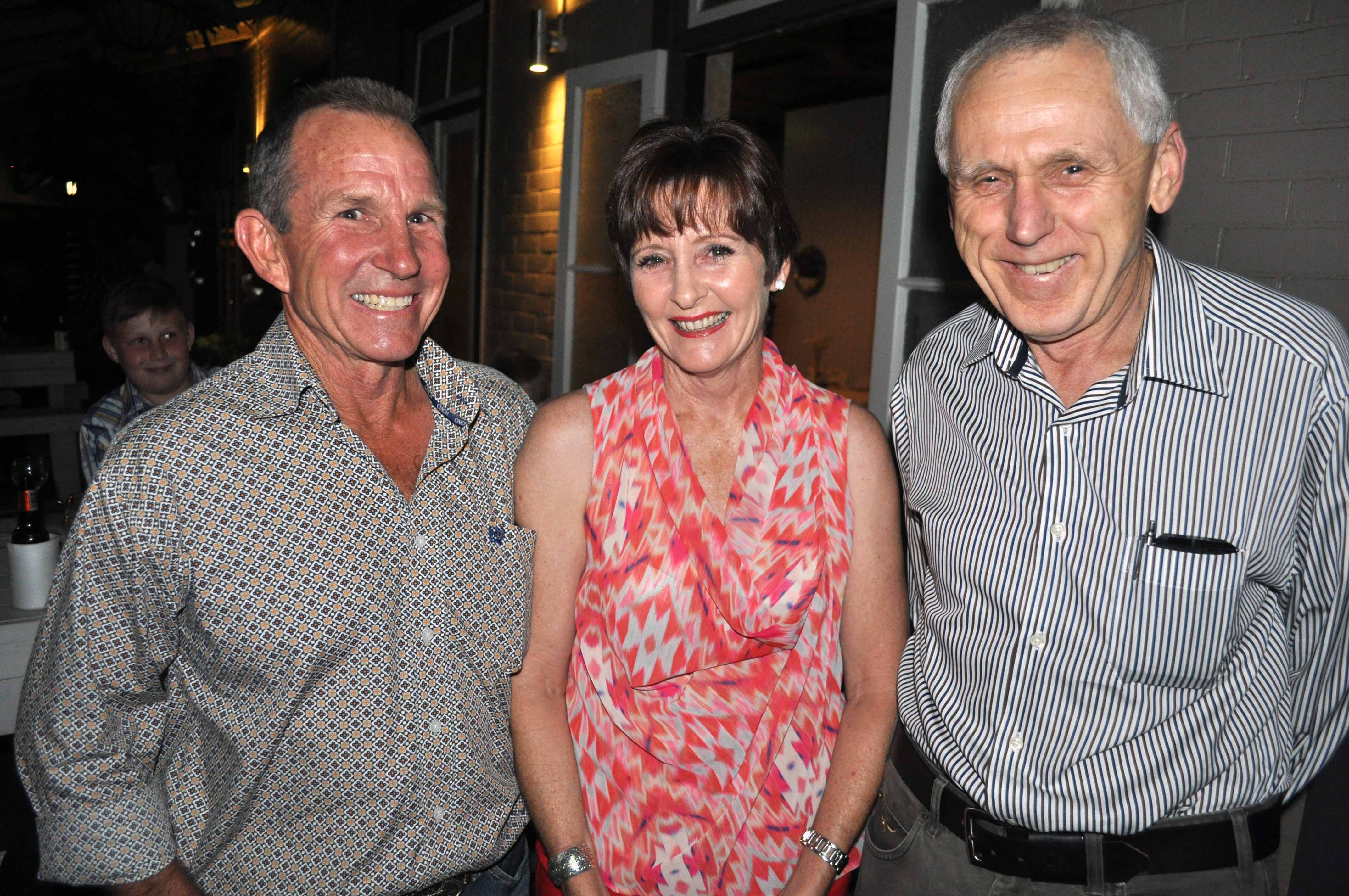 Grazing BMP set to expand with new 3 year commitment to program funding
Posted on November 4th, 2014
Fitzroy Basin Association Inc. (FBA) Chief Executive Officer Paul Birch has welcomed the Queensland Government's announcement of a further three years funding for the Grazing Best Management Practice (BMP) Program.
Minister for Environment and Heritage Protection Andrew Powell made the announcement on Friday 24 October when he visited Bowen-based grazing property 'Mt Aberdeen', owned by Steve and Del Norman (pictured with FBA Grazing BMP Project Manager) who are among the first to gain Grazing BMP Accreditation status.
The Queensland Government invested more than $2.2 million in Grazing BMP from December 2012 to September 2014, and have now committed a further $4.5 million over three years to continue the program.
"The ongoing assistance of the Queensland Government demonstrates the strength of the program and we can now continue to support industry to undertake and maintain best-practice standards to minimize the impact of agriculture on the Great Barrier Reef," Mr Birch said.
Working to meet the Australian and Queensland Government's water quality improvement targets, more than 600 Queensland grazing businesses have undertaken modules from the Grazing BMP Program, aimed at benchmarking and improving the environmental, business and animal welfare practices in the industry.
"We are pleased to advise we have exceeded the expected uptake of Grazing BMP in the Fitzroy Basin over the past two years and commend those graziers who have attended workshops for their forward-thinking approach to working in the industry," he said.
"The aim is for the grazing industry to be a shining example of the Government's shift towards a reduction in regulation; so as more graziers move towards voluntary education and improvement there is less need for regulation of their practices," he said.
"More than 160 grazing businesses have completed all five Grazing BMP modules and 11 have undertaken the next step, being awarded Accredited Producer status after completing an extensive Grazing BMP audit."
"We want to reinforce the message that those graziers who commit to Grazing BMP are enabling the industry to present a real and accurate picture of grazing to the public, particularly those consumers who are increasingly eager to see where their beef has come from."
"We have received positive feedback from participants on the value of Grazing BMP to their businesses, both in relation to content and the unique opportunity for networking and discussion with other graziers in their region."
Grazing BMP was developed in partnership by Fitzroy Basin Association, AgForce and the Department of Agriculture, Fisheries and Forestry and has begun expanding across the state to NQ Dry Tropics NRM and Burnett Mary Regional Group regions.
Partners will continue to offer Grazing BMP education, reassessment and audits over the next three years with more regions and graziers expected to get involved.
For more information on Grazing BMP visit www.bmpgrazing.com.au.