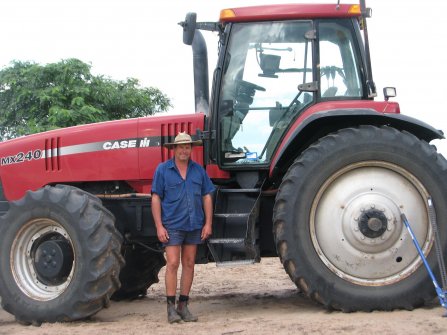 Grains BMP opens up new way forward for Wandoan farmer
Posted on July 27th, 2014
A new way forward with the implementation of spray rig GPS and controlled traffic farming has allowed Wandoan farmer Tony Baker to move from damaging a bumper chickpea crop by over-spraying to increasing his efficiency in spraying and planting programs and reducing chemical costs.
Mr Baker who owns Annabranch, a 1600 hectare farming property and the adjoining 800 hectare Annabrae between Wandoan and Taroom, completed the industry Grains Best Management Practice (BMP) Program in 2012, and as a result applied and received funding for spray rig modifications including GPS and controlled traffic farming.
A new round of Grains BMP workshops will commence in Central Queensland at the end of July, and according to Mr Baker even for those struggling to make the time Grains BMP is a worthwhile investment.
"I think people would be surprised at what they can pick up at Grains BMP, even the little things you can do, that don't have to cost a lot, can make a big difference," Mr Baker said.
"In terms of assisting with farm management undertaking Grains BMP has been tremendous," he said.
"I grew a chickpea crop and caused quite a bit of damage by over-spraying so realised I needed to make changes with a better spraying regime.
"I was interested in moving to a guidance system but I was a bit lost as to how to do it.
"Grains BMP opened up the way forward for me to move to controlled traffic farming."
The Program, which has now been running in Central Queensland since 2009 includes modules on crop nutrition and soil fertility management, property design and layout, pesticide application, making best use of rainfall and integrated pest management.
A joint initiative of Fitzroy Basin Association Inc. (FBA), Department of Agriculture, Fisheries and Forestry and AgForce, Grains BMP allows farmers to compare their current farming practices against industry best practices, develop an action plan to improve productivity and discuss practical business ideas with other growers and industry experts.
According to FBA CEO Paul Birch, like Mr Baker's spray rig upgrades, on-farm projects identified in farm action plans that may assist to reduce the amount of sediment, nutrients and pesticides reaching local waterways and the Great Barrier Reef may be eligible for funding assistance as part of the Australian Government's Reef Programme.
"We would urge farmers who have not yet had the opportunity to undertake Grains BMP to book in the time for one of our upcoming workshops, as the feedback from participants is that everyone takes home some element of change to benefit their farming operation," Mr Birch said.
For more details on Grains BMP workshops in Clermont on 28 July, Capella on 29 July, Springsure on 30 July and Rolleston on 31 July visit www.grainsbmp.com.au or contact Vicki Horstman on 0427 320 539. For other Grains BMP workshops around the Basin contact Rod Collins, DAFF on (07) 4992 9146.