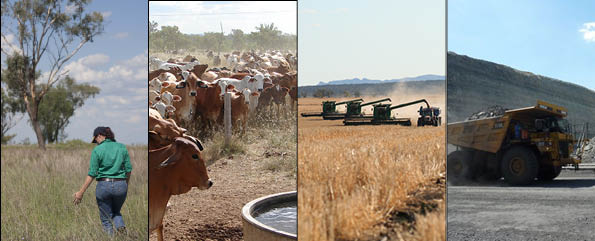 Forum explores co-existence in CQ
Posted on October 9th, 2013
Central Queensland's leading natural resource management group Fitzroy Basin Association Inc. (FBA) will host a forum in Rockhampton on Wednesday 16 October exploring Co-Existence in Central Queensland.
FBA's CEO Paul Birch said as a result of the resources boom, where perceptions can differ greatly between agricultural and resources sectors, co-existence has become an increasingly important issue in Central Queensland.
"The Fitzroy Basin boasts prime agricultural land with up to 90% of land used for agriculture but this land also contains some of the largest coal reserves in Australia and therefore 40 of Queensland's 50 coal mines operate in the area," Mr Birch said.
"Also the basin is home to around 230,000 people, unique plants and animals call our basin home and coal seam gas exploration and extraction is on the increase.
"Co-existence will be explored from the perspective that the resources and agricultural sectors should be seeking mutually beneficial outcomes and opportunities to work together in harmony.
"Speakers from the agricultural and resources sectors will discuss the issues surrounding co-existence that have become apparent in Central Queensland and other regions, in addition to what actions FBA and other organisations can take to address these issues and establish mutually beneficial co-existence in the region.
"Farmers, graziers, traditional owners and politicians as well as representatives from the resources sector, the Australian Government's Department of Agriculture, Fisheries and Forestry, Queensland Government's Department of Natural Resources and Mines, local councils, community and conservation groups, AgForce and FBA's delivery partners will all be in attendance at the forum," he said.
"I encourage anyone who hasn't yet registered their interest to do so and come along to join the discussion with these groups," he said.
FBA's Annual General Meeting will be held at the conclusion of the Co-existence Forum and will be followed by presentations relating to land and water quality within the Central Queensland region.
For full details on speakers download the event flyer from the FBA events calendar www.fba.org.au/calendar
RSVP is essential for catering purposes, to book your spot please email rachael.stegemann@fba.org.au or call (07) 4999 2827.