Fitzroy Reef Champions secure four awards
Posted on December 3rd, 2019
PIRATES, producers and extension officers were congratulated for their commonalities at the 2019 Reef Champion Awards, sponsored by Reef Alliance and the Queensland Farmers Federation on November 26.
Taking actions to benefit positively upon water quality and the Great Barrier Reef is the mutual goal for Neil Farmer, Graham Volck, Jolly Rogers Fishing Club and Ellie Carter – who were all named 2019 Reef Champions in their respective categories.
Nominated by Fitzroy Basin Association (FBA), Neil Farmer has been involved in consecutive Australian Government Reef Trust programs 3 and 4, with extensive property planning beginning to take effect. These efforts have resulted in 71.3 ha of stream bank protection and a total sediment saving of 4.1 tonnes per year.
In his acceptance speech, Neil explained why his approach makes so much sense to the entire industry.
"To have rainfall events where your profits are washing away down the river just doesn't make sense anymore," he said.
"I think the message we need to get across to producers is that we can increase your productivity, we can increase your rainfall utilization – make you more money through more grass, more production per hectare, and while achieving those things, we can also achieve greater benefits for the environment."
"To have rainfall events where your profits are washing away down the river just doesn't make sense anymore," Neil Farmer.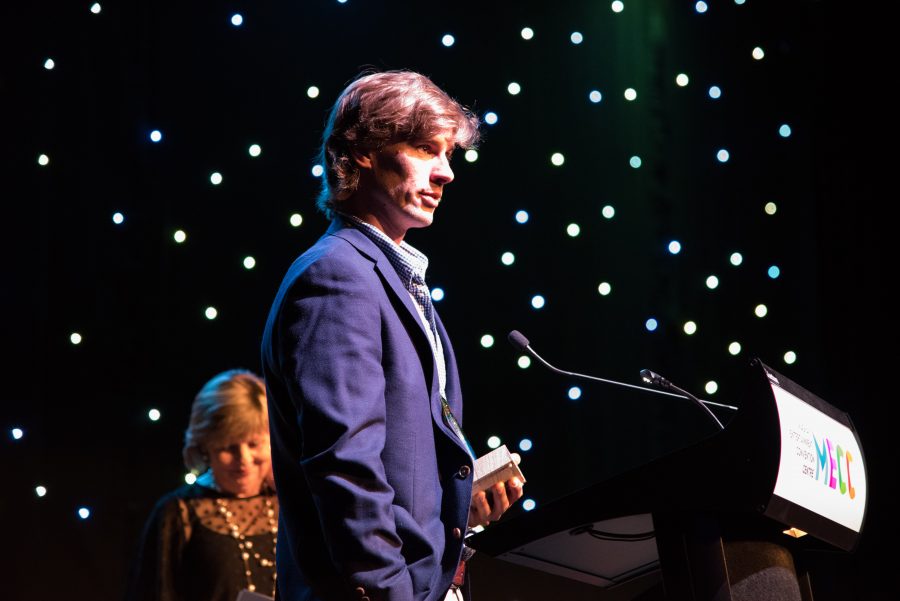 Ellie Carter, senior land management officer at FBA, was announced as a joint winner in her category of Reef Extension Officer Award. Ellie states that her love of the agricultural industry inspires her to support landholders in 'one of the hardest occupations on Earth'.
"There are so many factors at play when working on the land that aren't within your control," she says.
"I love my job as an extension officer because I get to help landholders focus on the things they can control – to ultimately make their lives and jobs less stressful."
FBA Board member Graham Volck was nominated for the category of Reef Nutrient Champion by Cotton Australia, an award he accepted on the night with the following words
"It's particularly meaningful for me to receive this environmental award," he said.
"It's more special to me to receive an environmental award in front of Traditional Owners who I consider to be the original and best environmental managers there are."
Finally, Jolly Rogers Fishing Club was announced as the winner of the Reef Community Champion category.
"Our main cause is to show future generations that we need to do things now. With our kids we have helped made this happen," said President Neill Xxavier.
"Our work has gone down really well. It's inspired our community. We are so grateful and humble."
Fitzroy Basin Association would again like to congratulate the exceptional work of the winners for the much deserved recognition.
"Our work has gone down really well. It's inspired our community. We are so grateful and humble."