Preparing for the future – what you need to know to succeed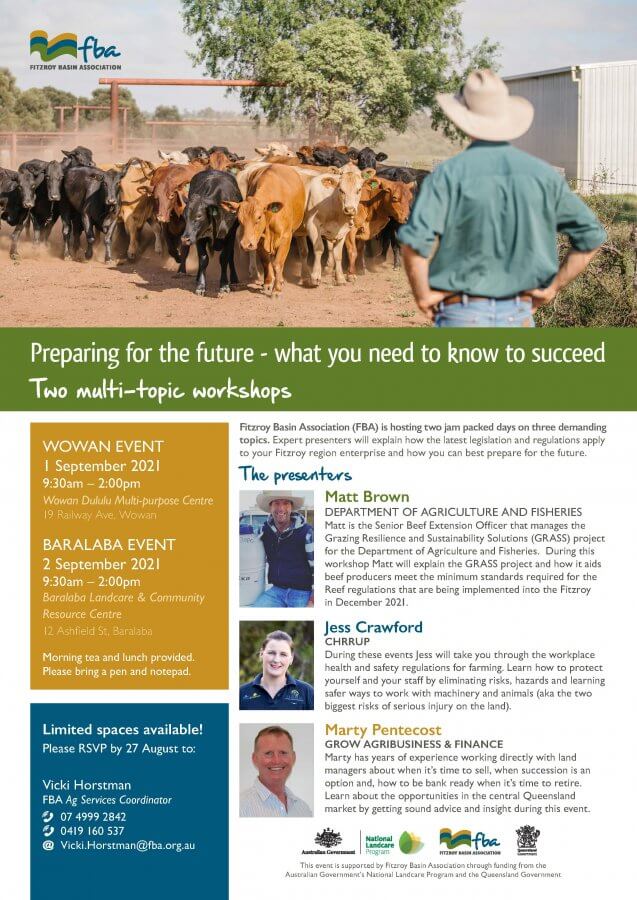 Two multi-topic workshops
RSVP to Vicki.Horstman@fba.org.au
M: 0419 160 537
P: 07 4999 2842
Fitzroy Basin Association (FBA) is hosting two jam packed days on three demanding topics. Expert presenters will explain how the latest legislation and regulations apply to your Fitzroy region enterprise and how you can best prepare for the future.
WOWAN EVENT
1 September 2021
9:30am – 2:00pm
Wowan Dululu Multi-purpose Centre
19 Railway Ave, Wowan
BARALABA EVENT
2 September 2021
9:30am – 2:00pm
Baralaba Landcare & Community Resource Centre
12 Ashfield St, Baralaba
Morning tea and lunch provided. Please bring a pen and notepad.
Event Times
09:30 am - 02:00 pm Wednesday 1st September, 2021
09:30 am - 02:00 pm Thursday 2nd September, 2021