Managing your soil workshop | Springsure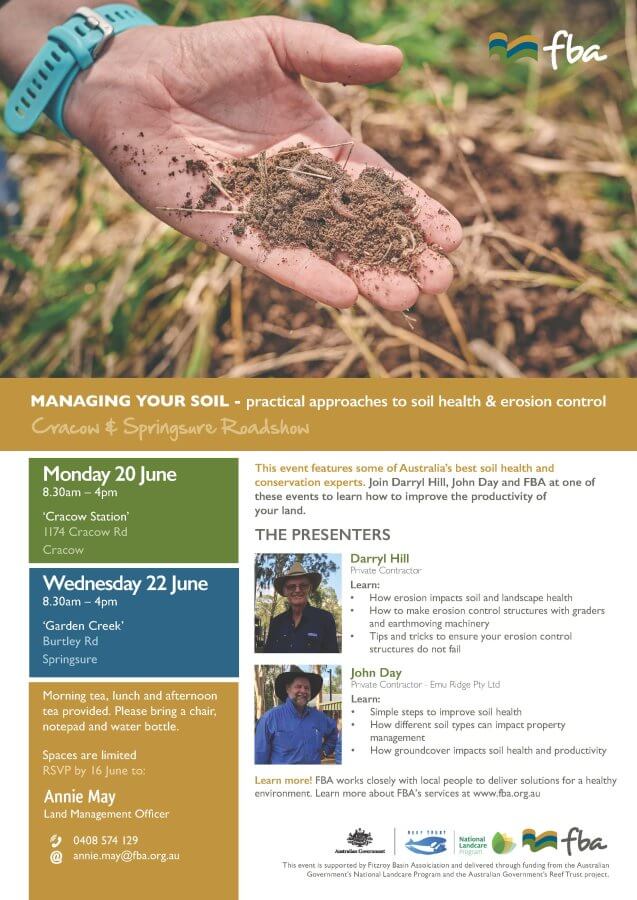 Practical approaches to soil health and erosion with two of Australia's best soil health and conservation experts. Join Darryl Hill, John Day and FBA at Cracow and Springsure.
Darryl Hill
– How erosion impacts soil and landscape health
– How to make erosion control structures with graders and earthmoving machinery
– Tips and tricks to ensure your erosion control structures do not fail
John Day
– Simple steps to improve soil health
– How different soil types can impact property management
– How groundcover impacts soil health and productivity
Learn more! FBA works closely with local people to deliver solutions for a healthy environment. Learn more about FBA's services at www.fba.org.au
Springsure event
Time: 8.30am to 4.00pm
Where: Garden Creek, Burtley Road, Springsure
Morning tea, lunch and afternoon tea provided. Just bring a chair, notepad and your own water bottle.
Spaces limited so RSVP by 16 June to:
Annie May
FBA Land Management Officer
M: 0408 574 129
E: annie.may@fba.org.au
Event Times
08:30 am - 04:00 pm Wednesday 22nd June, 2022