Bustard Bay Beach Clean-Up
Help prevent marine debris from entering the Great Barrier Reef at the Curtis Island Community Clean-Up in April.
This Bustard Bay event is organised by ReefClean.
This Australian Marine Debris Initiative organised by ReefClean.org launched in 2019 aims to remove and prevent marine debris along the Great Barrier Reef region through to 2023.
The project aims to deliver the following services:
– Community clean-up events
– Site monitoring
– The Great Barrier Reef Clean-up event annually in October
– Community Source Reduction Plan Workshops
– School and community engagement activities
– Data analysis
– Disaster management clean-ups
Meet at 1770 LARC Tours for departure aboard the LARC. for 8.00am departure and returning at 12.00pm.
Volunteers must wear enclosed shoes, bring sun/rain protection and a reusable water bottle. All equipment and drinking water top-ups will be provided.
Registration is essential
RSVP to ian@tangaroablue.org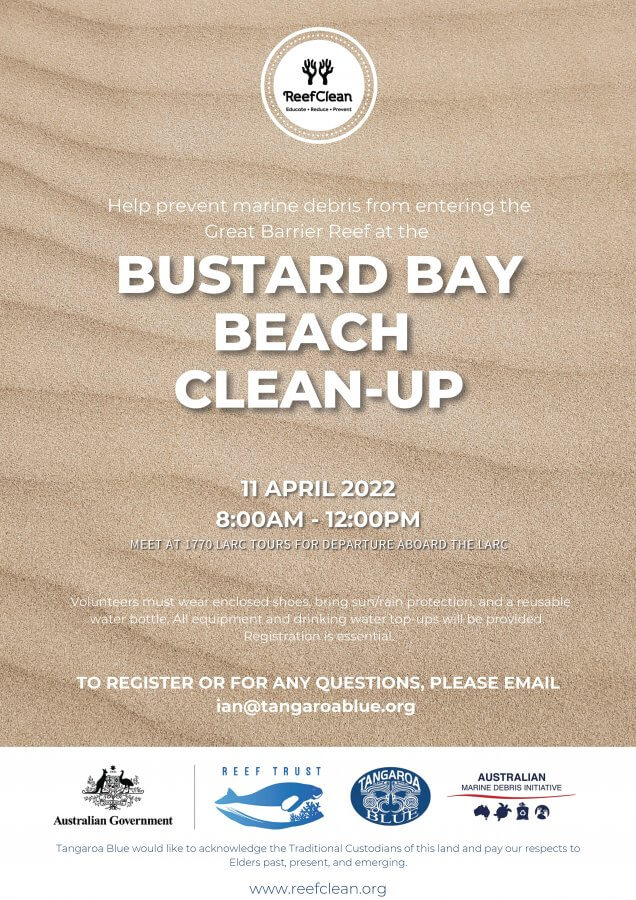 Event Times
08:00 am - 12:00 pm Monday 11th April, 2022