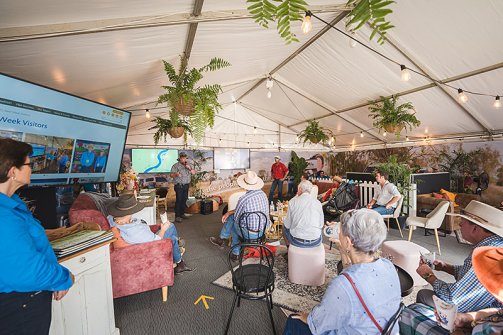 FBA wins hearts and minds at Beef2021
Posted on May 20th, 2021
Record-breaking attendance at this year's Beef Australia was testimony that Rockhampton has its finger on the pulse of the global beef industry and was able to deliver exactly what 115,000 people came to see, hear, and experience in one place during Beef week.
Fitzroy Basin Association (FBA) joined the festivities with a campaign of guest speakers and presenters who attracted audiences of land managers, professionals, and academics in five packed days.
Over 1000 guests filed through FBA's marquee between Monday and Friday enjoying a schedule of presentations from top names and trusted advisors to the beef industry who shared their time, wisdom, and expertise.
As a land manager and grazier, FBA Chief Executive Officer Elyse Riethmuller has also built a reputation as an innovative and commercially astute leader with expertise in natural resource management, regenerative agriculture, and stakeholder engagement. She was full of praise for the diversity and relevance of how FBA's content was received.
"FBA was honoured to host enthusiastic conversations around the relevance of many agriculture topics to help land managers find better and more affordable solutions for their enterprise and environment," said Ms Riethmuller.

"We are fortunate to have dedicated expert staff passionate about the beef industry and outstanding relationships with leading professionals and educators. With so much going on in technology, it was important to understand that audiences still wanted down to earth discussions about sustainable grazing practices and how it relates to them."

FBA CEO Elyse Riethmuller
Pasture expert and renowned agronomist Ross Newman fresh from featuring on ABC's Landline program, opened FBA's schedule with a passionate address on ecologically sound pasture regeneration for healthier and more productive beef production.
A much-anticipated presentation followed with CQU associate professor Dana Stanley about pasture dieback. With thousands of properties directly effected by the mysterious and virulent dieback disease, land managers, academics and business owners assembled at FBA to hear the very latest research performed on 30 local farms by Dr Stanley.
Not only did FBA guests get some of the latest research available, but they were also able to hear from their grazier peers who are pioneering new methods to regenerate country.
Cam Gibson from 'Coonabar' north of Rolleston has been planting thousands of trees on his grazing land for over ten years. Sharing data on how treescapes improved temperature control and enhanced weight gain for cattle that could access shade compared to those that grazed on open paddocks excited the audience.
Following his presentation, members of the audience were keen to pick his Mr Gibson's brain about how cattle, trees and pasture could not only cohabitate, but could thrive and be profitable while at the same time improving land value and generating income from carbon farming.
"We couldn't have asked for a better attendance at the FBA marquee with guests genuinely seeking out new connections, sharing their own personal experience among peers and contributing to important discussions about the future or land management in the Fitzroy region".

"The success of the event was down to the devotion of the Beef committee and their enthusiasm to see exhibitors and partners like FBA have a rewarding and professional presence and I congratulate them on an outstanding success, and we look forward to working with them again in 2024," concluded Ms Riethmuller.