CQ Seagrass Regeneration Project wins Reef Community Champion Award
Posted on December 1st, 2022
Last night the 2022 Reef Champion awards were announced, and the CQ Seagrass Regeneration Project was picked as a winner of the Reef Community Champion Award.
The Awards, run by Queensland Farmers' Federation (QFF), recognise the outstanding achievements of individuals and organisations working to improve the quality of water entering the iconic Great Barrier Reef.
The Seagrass Restoration Project is coordinated by Fitzroy Basin Association (FBA) with funding from the Australian Government's National Landcare Program. Partnering with CQUniversity Australia's Coastal Marine Ecosystems Research Centre (CMERC), Woppaburra TUMRA, Konomie Island Environmental Education Centre and members of the central Queensland community huge efforts have been made to restore or reinstate seagrass meadows.
The Curtis and Capricorn Coasts are located on the southern end of the Great Barrier Reef and the region's seagrass ecosystems provide services that support human well-being and marine health. Over the last 20 years, there has been an observed 50% reduction in seagrass meadow cover on the Curtis and Capricorn Coasts due to human activities on the land and at sea. This trend is consistent with worldwide data, with seagrass meadows across the globe becoming more fragmented or disappearing completely.
Seagrass ecosystems are essential as they mitigate climate change (by storing large amounts of carbon), improve water quality (by trapping suspended sediments, pollutants, nutrients and bacteria) and act as an ocean acidification buffer (by regulating the chemical composition of seawater by oxygenating water).
The holistic project includes multiple components that all aim to improve the water quality flowing to and within the Great Barrier Reef.
Accomplishments to date include:

– Clean-up events that have collectively removed over 1 tonne (1,153 kg) of rubbish from local rivers (addressing water quality flowing to the Reef)

– Supporting the establishment of the first island-based seagrass nursery and research facility in Queensland; SeaGrow Konomie Island

– Seagrass seed collection events resulting in over 415,000 seeds obtained ready for propagation

– Release of 25,000 seagrass plants in four dispersal events
These results (and the project) have been made possible by the involvement and passion of the involved volunteers. Notably, members from the Keppel Bay and Gladstone Sports Fishing Clubs have invested significant time and resources into caring for the natural assets they enjoy most. Impressively 252 volunteers have donated 2,004 hours of their time (equivalent to over 250 working days) to the project to date.
Along with lasting environmental results, the project has also generated a new cohort of marine stewards. This impact is nicely summarised by the below quote from a project volunteer.
"When I was out on the water, I would see rubbish and ask 'why isn't anyone doing anything about this'. Now when I see rubbish, I pick it up. The solution is simple, and it starts with all of us."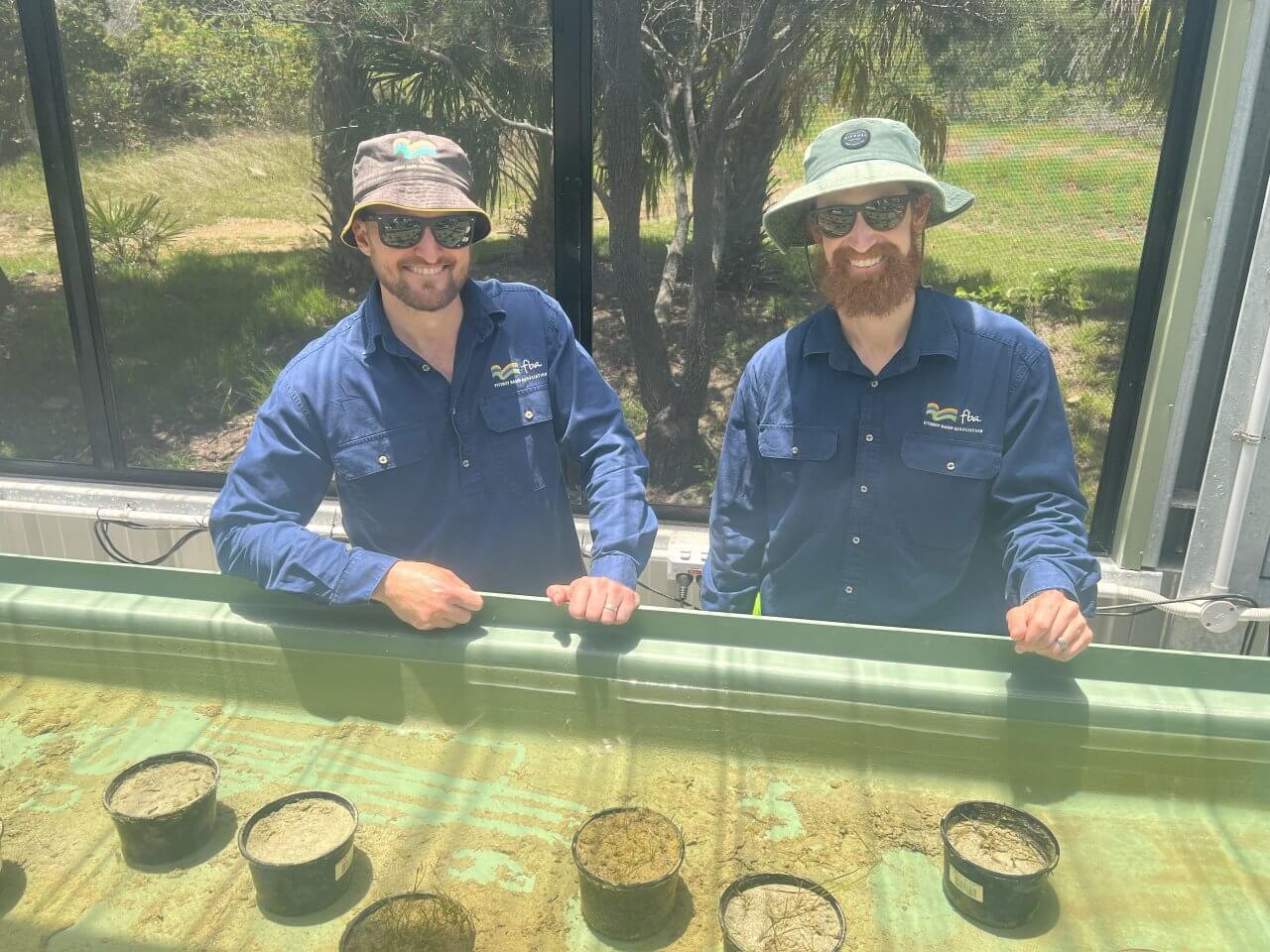 This project is a fantastic example of how actions (no matter how small) can make a big difference. Given the right conditions, one seagrass seed can grow to cover one hectare of the seafloor. Similarly, one empowered community member can make positive changes and actions that ripple out across the regions and connected oceans.
Learn more about this project.
This project is supported by Fitzroy Basin Association and CQUniversity through funding from the Australian Government's National Landcare Program.