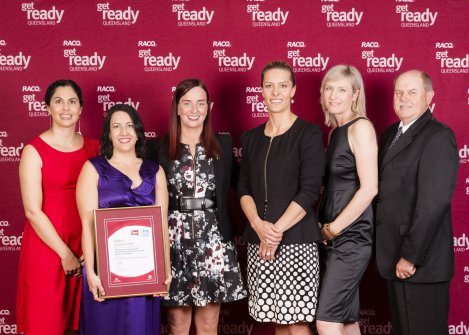 Community resilience program recognised in State awards
Posted on September 22nd, 2016
A program that empowered Fitzroy Basin communities and organisations to work together to recover from ex-tropical cyclone Oswald and build resilience for future natural disasters has received a 'highly commended' award at the 2016 Get Ready Queensland Resilient Australia Awards.
Fitzroy Basin Association Inc. (FBA), Dawson Catchment Coordinating Association (DCCA) and Capricornia Catchments worked with over 100 landholders to repair damage to their properties, help them resume agricultural production sooner, and enhance their resilience to future natural disasters.
FBA Chief Executive Officer Paul Birch said working in close partnership with local councils, Queensland Government departments and peak industry bodies to assess damage, set restoration priorities and provide on-ground support to landholders was the key to the program's success.
"FBA delivered almost $1.5 million in flood recovery activities to landholders across the hardest hit parts of our region. Projects were developed directly with landholders, providing one-on-one support and expert advice to ensure the best outcomes," Mr Birch said.
"In a first, landholders were encouraged to work together in clusters on neighboring projects and are to be commended for their willingness to be open to practice change when their operations were hurting.
"Biosecurity, soil conservation and mental health services were also included in the program to ensure we were looking after both the wellbeing of the land as well as landholders, which is vitally important to both recovery and future resilience," he said.
The program's success was tested just two years later, when Category 5 severe tropical cyclone Marcia crossed the region's coast in February 2015.
"Severe tropical cyclone Marcia caused major flooding, particularly in the Callide catchment. However, damage to project sites was minimal demonstrating that landholders who participated in the project were indeed more resilient to natural disasters."
FBA has published a short film about the impacts from ex-tropical cyclone Oswald and the project's recovery and resilience achievements on YouTube, which can be viewed at https://www.youtube.com/watch?v=syplVTHjuRU.