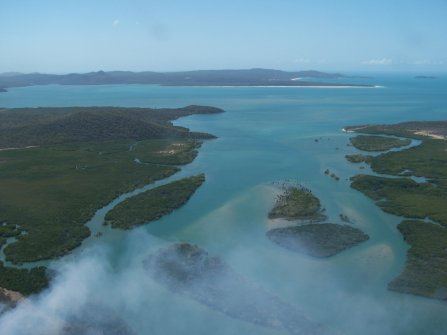 Big year ahead for Fitzroy Basin
Posted on January 9th, 2014
Almost $10M will be invested in the Fitzroy Basin in 2014 to improve water quality, foster on-ground best management practices, protect special plants and animals, manage pests, restore land, and care for wetlands and creeks.
Fitzroy Basin Association (FBA) will work with local delivery partners FRCC, CHRRUP and DCCA to deliver Australian and Queensland Government funding on-ground in central Queensland.
FBA CEO Paul Birch said with 20,000 kilometres of streams and creeks flowing through the Fitzroy Basin and out to the reef, there is still a lot of work to be done on-ground to build on previous efforts to improve land management and water quality in the region.
"Projects to help improve land condition and therefore water quality are already underway, as well as projects to repair from the floods resulting from ex-tropical cyclone Oswald," Mr Birch said.
"A focus for the year will be best practice agriculture and workshops, providing opportunities for land managers to learn how to improve their on-farm practices and productivity. 
"CQ graziers have given glowing reviews for the Grazing Best Management Practices (BMP) program, an initiative of FBA, AgForce and the Queensland Department of Agriculture, Fisheries and Forestry.
"Five modules are delivered through the program and since July 2013 over 500 modules have been completed by CQ graziers. Visit www.bmpgrazing.com.au to get involved," he said.
In 2014, FBA will engage with the community to develop Central Queensland's Natural Resource Management (NRM) plan, to help shape the future of NRM in our region.
The CQ NRM plan looks at the region's resources (land, water, biodiversity), how they support regional communities, and the risks to those resources. 
Mr Birch said the Fitzroy Basin's unique animals will also receive a helping hand again this year.
"Monitoring and management of habitats for the Bridled Nailtail Wallaby, Fitzroy River Turtle, Kroombit Tinker Frog, Kroombit Tree Frog and Australian Snubfin Dolphin will continue to help protect these species.
"Management plans will be developed for the Palm Tree and Robinson Creek wetlands located near Taroom and the RAMSAR listed and internationally significant Shoalwater and Corio Bay wetlands.
"The Shoalwater and Corio Bay wetlands incorporate 300km of coastline including islands and wetlands with a remarkably abundant wildlife of tropical and subtropical species.
"Weed and pest management programs in this area will continue and FBA will work with Traditional Owners to restore the land at Corio Bay.
"FBA is the host organisation for and a major partner of the Fitzroy Partnership for River Health. The second report card on the collective health of the Fitzroy Basin will be released this year – providing a more complete picture on river health.
"FBA also contributed to the establishment of the Gladstone Healthy Harbour Partnership and are members of the Management Committee. The first report card on the health of the Gladstone Harbour will also be developed this year.
There's a lot happening at FBA. To keep updated throughout the year, like I believe in a sustainable CQ on facebook, sign up to FBA's monthly e-newsletter by emailing admin@fba.org.au or visit our events calendar to find out more about workshops.
 If you're in Rockhampton, FBA's FLOW Visitors Centre, located in the old Post Office Building, on the corner of East and Denham Streets is worth a look.
Over 7,000 people have already visited. FLOW is open Tuesday to Friday, 10am to 4pm and is a very popular education space for both school and adult groups.