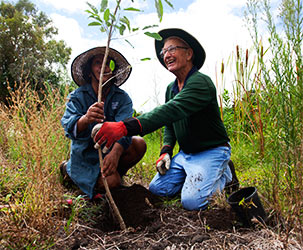 Big week for Landcare and Weed busting!
Posted on August 30th, 2013
Landcare and Weedbusters week coincide next week so Fitzroy Basin Association (FBA) has teamed up with local Landcare groups and Rockhampton Regional Council to celebrate these important awareness weeks.
Various displays, activities and information sessions will be on offer at different times throughout the week at FBA's FLOW Visitors Centre, corner East and Denham Streets, Rockhampton from 10am to 4pm.
FBA CEO Paul Birch is encouraging the local community to come along and find out more about local Landcare and weed busting efforts in CQ.
"Landcare week encourages people to get involved in Landcare in their everyday lives and Landcare Week is a perfect time to explore your opportunities to help make a difference to your local environment," Mr Birch said.
"Just for Landcare week, FLOW will host the Queensland Museum's Travelling Exhibit – Bush and Forest Habitat allowing you to investigate living and non-living things from these habitats under the digital microscope.
"Rockhampton Regional Council Nature Resource Management officers will have a Weedbusters display on the FLOW verandah from Wednesday to Friday.
"Locals can bring along a weed for identification on these days to receive a free native plant, test their Weedbusting skills and enter the Weed ID competition.
"On Thursday and Friday from 2:30-3:30pm you can bring along your soil for testing and talk with local experts about understanding soils and finding organic solutions for weed-free backyards.
"Thursday night a special Landcare networking event with guest speakers, will be held for local Landcare groups, small landholders, teachers and environmental groups.
"Controlling weeds and supporting local Landcare efforts are essential to a strong future for CQ, don't miss your chance to get involved and find out more at FLOW Visitors Centre from 2-6 September," he said.
This annual celebration of Landcare encourages everyone, wherever they live and whatever they do, to get involved in the Landcare community and help protect and restore our country's valuable natural resources.
For more information on Landcare and Weedbuster week events visit the FBA events calendar.